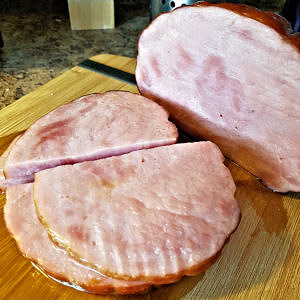 Ham, honey and mustard, can there be a better combination of flavours? This recipe requires very few ingredients and can easily become a family favourite!
Ingredients
1 cup (235 ml) of brown sugar
½ cup (120 ml) of honey
2 tablespoons (30 ml) of mustard
1 cup (235 ml) of water
2 to 4 pounds (900 – 1800 g) of cooked half ham
Instructions
Pre-heat the oven to 325°F (165°C).
Combine the first three ingredients in a bowl and set aside.
In a shallow roasting pan, add water and ham cut side down.
Cover the exterior of the ham in glaze and cover loosely with tin foil.
Place in the oven and cook until the internal temperature reaches 140°F (60°C). Baste ham with remaining glaze periodically.
Remove foil roughly 30 minutes prior to ham reaching internal temperature.
Remove ham from the oven and let stand, covered for 10 to 15 minutes.
Carve up as desired before serving.