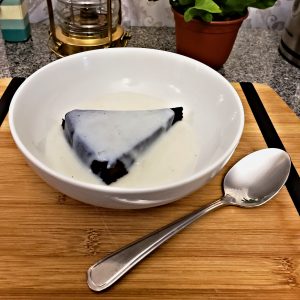 Kladdkaka is a Swedish cake that is more commonly known as chocolate mud cake. This cake does not use baking powder, and reminds me of brownies. It is often served with whipped cream, or vanilla ice cream.Although, I discovered that this cake is also delicious with the creamy nutmeg sauce that I make with my coffee cake recipe.
Yummy!
Ingredients
1 cup (235 ml) of butter
1½ cups (355 ml) of sugar
⅛ teaspoon (0.125 ml) of salt
1 cup (235 ml) of cocoa powder (unsweetened)
1 cup (235 ml) of sifted flour
1 teaspoon (5 ml) of vanilla extract
4 large eggs
Preparation
Pre-heat oven to 300°F (160°C).
Butter or grease a 9 inch (22 cm) cake pan. As an additional precaution, dust the pan with 1 teaspoon (5 ml) of cocoa, tapping the powder around all surfaces and discarding any remaining cocoa.
Over medium heat, melt butter in a saucepan. Set aside.
In a large bowl add sugar, salt, flour and cocoa powder. Mix for consistency, then make a well in the middle.
Add butter, eggs and vanilla extract to the dry mix. Use a mixer to get a consistent finish.
Pour into the pan, and place in the oven for 20 to 30 minutes.
This cake should be firm on the outer edges and gooey in the middle. After the 20 minute mark, periodically shake the tin. When the centre jiggles less than gelatin but is not completely firm, the cake is ready.
Remove from the oven and let cool for an hour. The cake will contract, making it easier to remove. Divide and serve for smiles.
Remaining cake should be covered with cellophane wrap and refrigerated.

Kladdkaka by Evelyn Chartres is licensed under a Creative Commons Attribution-ShareAlike 4.0 International License.