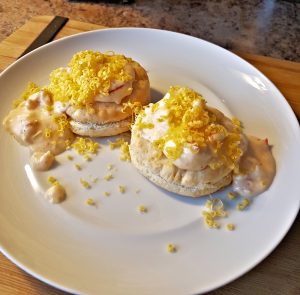 This dish is said to have its origins in Nova Scotia's South Shore, home of Acadians and several fishing communities. This recipe blends lobster with cream to make a delicious filling served atop fresh tea biscuits or garlic bread. For an extra zing, add a bit of grated cheddar as a topping.
Ingredients
Lobster Melt
5 ounces (140 ml) of cooked lobster meat
3 tablespoons (45 ml) of butter
¼ cup (60 ml) of chopped fine onions
2 tablespoons (30 ml) of flour
½ cup (120 ml) of milk
½ cup (120 ml) of cream
⅛ teaspoon (0.625 ml) of salt
⅛ teaspoon (0.625 ml) of cayenne pepper
Tea Biscuits
2 cups (470 ml) of all-purpose flour
4 teaspoons (20 g) of baking powder
1 teaspoon (5 g) of salt
½ cup (120 ml) shortening
¾ cup (180 ml) of milk
Preparation
Lobster Melt
Dice lobster meat and set aside.
In a medium saucepan, melt butter on medium-high heat. For additional flavour, substitute 1 tablespoon (15 g) of butter with garlic butter.
Add onions and sauté for 1 minute.
Add lobster and sauté for an additional 3 minutes.
Mix in flour and stir until you have a consistent mixture.
Add milk, and cream. Stir until sauce thickens.
Add salt and pepper then stir.
Served on two-halves of a fresh tea-biscuit. For that little extra, top with cheese.
Tea Biscuits
Pre-heat the oven to 400°F (205°C).
Add flour, baking powder and salt into a bowl. Add shortening in cubes and mix.
Add milk, mix and knead until you have a ball of dough.
Roll out dough and flatten to ¼ inch (0.6 cm).
Cut into rounds using a cookie cutter or glass. Place on a greased cookie sheet and allow to rest.
Bake for 12 to 15 minutes. Serve warm.

Lobster Melt and Tea Biscuits by Evelyn Chartres is licensed under a Creative Commons Attribution-ShareAlike 4.0 International License.