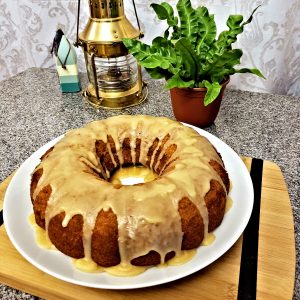 Throughout the years Maple Syrup has become a symbol of all things Canadian. This cake is made from maple syrup, creating a moist spongy cake that can be served by itself, with whipped cream, or an optional glaze.
Ingredients
Maple Syrup Cake Mix
1⅔ cups (395 ml) of all-purpose flour
2 ½ teaspoons (25 ml) of baking powder
¼ teaspoon of (1.25 ml) of baking soda
½ teaspoon of salt
½ cup (120 ml) of melted butter
½ cup (120 ml) of brown sugar
2 large eggs
¾ cup (180 ml) of maple syrup
¼ cup (60 ml) of water
1 tablespoon (15 ml) of vanilla
Maple Syrup Glaze
2 tablespoons (30 ml) of butter
¼ cup (60 ml) of maple syrup
1 cup (235 ml) of confectioners or icing sugar
Preparation
Maple Syrup Cake
Pre-heat the oven to 375°F (190°C).
Sift flour, baking powder, baking soda and salt. Mix then set aside.
Mix melted butter, brown sugar and eggs together.
Add maple syrup, water and vanilla then stir.
Incorporate dry ingredients from step 2 then mix until you have a creamy finish.
Place in a greased 8 inch (20 cm) cake pan. Place in the oven for 25 to 30 minutes.
Set aside and let cool for 20 minutes.
Remove from pan, prepare maple syrup glaze.
Maple Syrup Glaze
Melt butter in a saucepan then whisk in maple syrup.
Gradually whisk in sugar until sugar is melted.
Remove from heat and pour over the cake. Allow to harden before serving.

Maple Syrup Cake by Evelyn Chartres is licensed under a Creative Commons Attribution-ShareAlike 4.0 International License.