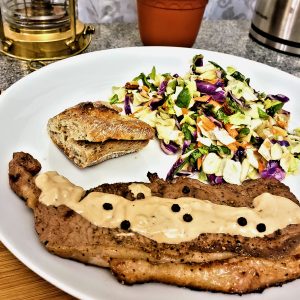 A steak sauce that's easy to make, and keeps well when refrigerated. This recipe provides a burst of flavour with your meal that is sure to please. Remember to add peppercorns for a bit of kick!
Ingredients
2 cloves (5-10 g) of garlic
2 tablespoons (30 ml) of finely minced onions
⅓ cup (80 ml) of mayonnaise
⅓ cup (80 ml) of Dijon mustard
3 tablespoons (45 ml) of red wine
½ teaspoon (2.5 ml) of Italian seasoning
Peppercorn to taste
Preparation
Sautée garlic and onions over medium heat, until onions are transparent. For more flavour, allow onions to brown.
In a soup bowl, mix garlic, onions, mayonnaise, mustard, red wine, and Italian seasoning. Stir until you have a consistent finish.
Refrigerate until needed.
Serve on top of steak. Add peppercorn to taste for an extra kick!

Peppercorn and Dijon Steak Sauce by Evelyn Chartres is licensed under a Creative Commons Attribution-ShareAlike 4.0 International License.