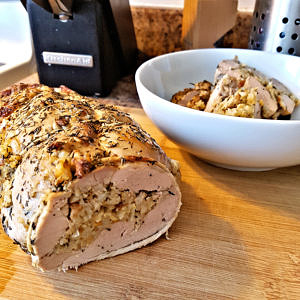 A tasty pork loin, which vaguely resembles a jelly roll when complete. This dish combines onions, garlic, rice, marmalade, and salt to create an interesting meal!
I normally serve this meal with hunter sauce and mashed potatoes.
Ingredients
2 tablespoons (30 ml) of butter
½ cup (120 ml) of finely chopped onions
2 cloves (5-10 mg) of garlic pressed
2 cups (470 ml) of chicken broth
1 cup (235 ml) of uncooked rice
½ cup (120 ml) of thin sliced almonds
3 tablespoons (45 ml) of marmalade
1 teaspoon (5 ml) of celery salt
4 teaspoons (20 ml) of thyme leaves (divided)
½ teaspoon (2.5 ml) of salt
½ teaspoon (2.5 ml) of pepper
2 pounds (900 g) of pork loin
1 tablespoon (15 ml) of olive oil
Preparation
Melt butter in a medium saucepan over medium heat. Stir in onion and garlic, cook until onion is transparent.
Add broth and bring to a boil. Stir in rice, reduce heat, cover and simmer for 15 to 20 minutes.
Remove from heat and let stand until liquid is absorbed.
Roast almonds, then chop into small pieces.
Mix with marmalade, celery salt, 1 teaspoon (5 ml) of thyme, salt, pepper and rice.
Pre-heat oven to 325°F (170°C).
Butterfly roast and flatten. Cover roast with rice mix then roll the roast. Use butcher string to tie up the roast. Should resemble a jelly roll when complete. Discard any remaining rice mixture.
Place roast on a rack, brush with olive oil and cover with remaining thyme.
Place in the oven for 2 hours or until the internal temperature reaches 170°F (77°C).
Carve roast into slices and serve with a hunter sauce.

Pilaf-Stuffed Pork Loin by Evelyn Chartres is licensed under a Creative Commons Attribution-ShareAlike 4.0 International License.