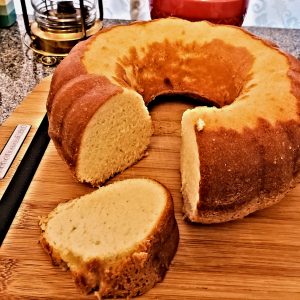 This cake recipe is my mother's favourite passed down for generations. A recipe for a white cake that is crunchy on the outside and soft on the inside. Can be baked using a bundt pan (as shown) or using two cake pans. Quick and easy to make, and is sure to please.
Yummy!
Ingredients
1 cup (235 ml) of milk
2 cups (470 ml) of sugar
2 cups (470 ml) of flour
1 tablespoon (15 ml) of baking powder
4 large eggs
1 teaspoon (5 ml) of vanilla extract
Preparation
Pre-heat oven to 350°F (180°C).
In a small saucepan bring milk to a boil. Set aside.
Butter or grease a 9 inch (22 cm) bundt pan. As an additional precaution, dust the pan with 1 teaspoon (5 ml) of flour, tapping the powder around all surfaces. Discard any remaining flour.
In a large bowl, add sugar, flour and baking powder. Mix for consistency, then make a well in the middle.
Add eggs, vanilla extract and milk to the dry mix. Use a mixer to get a consistent finish.
Pour into the pan, and place in the oven for 25 to 35 minutes. Test with a toothpick to make sure the inside is cooked. If you use two 9 inch (22 cm) pans, cooking time is roughly 20 to 30 minutes.
Remove from the oven and let cool on a rack. Ready to serve when cool!

Gâteau Éponge by Evelyn Chartres is licensed under a Creative Commons Attribution-ShareAlike 4.0 International License.