I consumed Nora From the Hollow by Marlena Owens in one sitting! This is a murder mystery that takes place in a small town in 1895. People often yearn for the simple life and simpler times, to live in a place where everyone knows everyone. That is, until life gets complicated, people die, and the townsfolk turn on one another.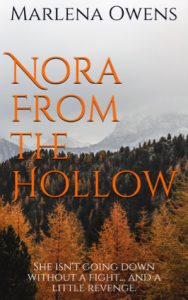 This book focuses on two characters, Nora, and Dirk a Sheriff's deputy. Their paths cross often enough as the mystery unfolds, and provides different points of view as information is revealed to the reader.
There is plenty of interaction and dialogue with other characters, the best of which involves Dirk's sisters. Some of it is rather witty and memorable, which makes this an enjoyable read. The story is notable in many ways, as are some of the characters.
I look forward to reading more works from this author!