Blood Drops by author W.B. Welch is more than just a collection of horror stories. Each take something familiar and adds just enough distilled horror to leave an impression lingering on your mind.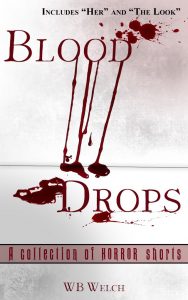 This book is a quick read, and features chapters that are of varying lengths. I found that the one to two page stories had the most impact overall. Every chapter is just the right length to have an effect, be it by leaving me stunned or looking over my shoulder just in case. This author has really mastered the art of prose!
I highly recommend this book, and look forward to reading new works from this author.