Clara had been expecting trouble, so when someone yelled from above, her reaction was imperceptible although immediate. She sensed time slow down. The yelling morphed until the voice was deep and slow, more fitting of an opera hall than a dingy alleyway.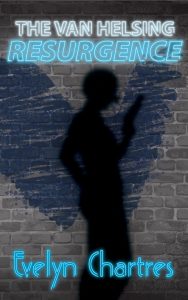 She turned around at what would appear to be a normal speed. Her eyes darted over every aspect of the alleyway, searching for ingress points and any object that could aid or hinder her.
Clara could have sworn that it was Edith who uttered those words, yet she had never known Edith to unload that kind of vitriol towards anyone. This woman was always cool as ice, not a swirling maelstrom of hate.
After the poisoned words faded, Clara was almost fully in line with the alley. From out of her peripheral vision, she spotted a window shatter which sent glass shards flying in every direction, just like a grenade going off. However, that was the least of her worries, since there was an angel of fury descending on her.
Edith's trajectory was in line to impact both Clara and Elizabeth. While Clara could weather such a blow, her friend, no matter how imposing, was ill equipped to do so. That meant Clara would need to deflect the attack, and so far, her accelerated reaction times would help to stack the odds in her favour. Clara pivoted towards the street using her wings to back off a couple of feet before adopting a runners starting position. She kept her eyes fixed on Edith who was just beginning to realise what was going on.
"Too late," Clara said while using her wings to jump start into a run.
The two women made contact half-way through the alley. Clara managed to deflect Edith enough to send her into a dumpster. The metal deformed on impact and drove the refuse bin into the wall.
On the other hand, Clara was not so lucky. She aimed a bit low, so the force of the deflection sent her straight into the sidewalk. The impact scraped her bare arms and left a golden streak on the sidewalk. Later on, the full force of that pain would make itself known, but for now, there were other priorities.
After several bounces on the sidewalk, Clara regained her footing and said, "Di mi! Have you been kicking the gong around?"
The altercation caught the attention of a passer-by who noticed the wings in addition to the carnage. Sensing his fifteen minutes of fame, he pulled out his phone and began to stream the altercation online.
Edith pulled herself away from her crater. She ignored Elizabeth, focusing all of that pent up anger on Clara who was standing twenty yards down the line.
"I don't talk to traitors," Edith said while her wings brushed off the dust from her dress.
"Traitor, now?" Clara queried with a smirk.
Clara had used up her abilities for now. Edith, however, had yet to use that skill. Clara saw the other angel shift unnaturally, and just reacted.
Before she knew it, two throwing knives whizzed by her chest. It turned out there were advantages to having breasts that were not as bountiful as Elizabeth's. Anything bigger would have left a visible mark and slowed her down, in more ways than one. While pain could be ignored, it reduced her effectiveness bit by bit.
Clara reached toward her back, grabbed the shotgun, and brought it forward. While she had no desire to pull the trigger, still, it paid to make a show of force. A gal had to look out for herself after all.
Edith remained accelerated and kicked the shotgun barrel up in the air. That shot managed to draw in a larger crowd of spectators. Clara had kept a solid grasp of the weapon until this happened, but at that speed, it was difficult to compensate. The price of holding on meant spraining her dominant wrist.
"Horsefeathers!" Clara yelled as she backed away.
Somehow, her opponent could remain accelerated for longer periods than Clara. To compensate, Clara slowed down time just a smidge, but even that was pushing her limits. Still, it made anticipating her opponent's movements easier.
Now, when Edith attacked, Clara's boot made solid contact with the former's chest. The reaction was immediate and forced Edith to return to normal speed. The hit struck her in the sternum and left her winded, although temporarily.
Clara had a mild advantage, but that would not last. On instinct, Clara sent the spent shells through the air and used the opportunity to insert fresh ammunition. Once more, she trained the weapon on Edith and remained calm even as the barrel drifted, a side effect of steadying the weapon with a weakened wrist.
"Not going to answer my question?" Clara asked.
Edith looked up, her eyes burning with hate. There was nothing left of the woman Clara knew reflected in those eyes. No matter what was said, those words would never reach a reasoned mind.
"Or would it be better for me to ask why?" Clara asked. "I am starting to understand why men hate getting that line," she added before adopting a wide grin.
Edith was a formidable sparring partner at the best of times. Her cold and calculating nature meant that every strike and parry were part of a grand plan. Most were able to think a move or two ahead, but Edith was more like a grandmaster when it came to hand to hand combat.
Clara did not stand a chance in a fair fight, but her impulsive behaviour often served to add some spice to the chaos. That tactic might end up being her ticket out of this.
"Elizabeth," Clara said. "It's time for you to leave."
Elizabeth's head popped out from one of the dumpsters. When she saw what looked to be a standoff, she figured it was best to follow directions. Clara opened up her wings to their full size in an effort to conceal the escape. While ineffective, it did serve as a distraction.
When Edith twitched, Clara rested her fingers on both triggers. The sound of the trigger mechanism being engaged, even lightly, was enough to change her opponents mind. Alas, Clara knew this détente would not hold for long.
"Thank you," Elizabeth said as she slipped away.
Clara did not respond and instead kept her eyes focused on the other, the one who had been called down from Heaven in some alternate decision path, a reality where Clara had not been there at a critical junction for Edith.
"How did you get your wings?" Clara asked, showing genuine curiosity.
Edith flinched for a moment, conflicted on her course of action. Still, she chose to play along and replied, "I killed Drusilla."
Clara quirked a brow before replying, "You too, eh?"
"Liar!" Edith yelled.
"How do you think I got these?" Clara said, wiggling her wings.
"By fucking that vampire," Edith said.
"One of them with wings?" Clara asked while cocking her head to the side. "Really?"
Reason and logic were known to have some sway with the rational version of Edith. The latter took one look at those wings and chose to make a play for the weapon.
Clara kept her grip on the weapon, but the sprain made her wince. She should have fired a shot, but could not bring herself to pull the trigger. Instead, Edith gripped the weapon from both sides and, through brute force, sheared off the barrel assembly.
Clara backed away and made sure to block the alley entrance. She wanted to make sure that no one else got in the way of Edith's wrath.
"I loved you," Edith said faintly.
Clara's eyes widened. In truth, she had known for years but never expected to hear those words. The effect of that revelation might have been weakened by this tempest of dark emotions, but it did much to lift Clara's spirits.
"I know," Clara said in a cocky tone.
That quip hit a raw nerve. Edith literally snarled and in a burst of speed, sent Clara flying into one of the dumpsters. The impact was hard, but it was the steel lid that slammed onto her left wing that really hurt.
Clara realised that she had fractures to deal with. Her wing drooped unnaturally at the midway point, and every time she shifted, pain travelled down all the way to her toes.
"What?" Clara asked. "How are you even surprised?"
"You never said anything," Edith replied.
"Do you think I was blind to how you looked at me when we were together?" Clara asked. "I fell in love with you the day Sister Beatrice did that strip tease in class!"
"Then why?" Edith trailed off, her eyes softened.
"Because they would have kept us apart, and they would have assigned me another partner," Clara said while forcing her wing closed and wincing at the excruciating pain.
"You left me," Edith said.
Clara knew that was not the whole truth. It was the Reverend Mother who assigned Clara a new mission and left Edith behind as a reprimand for nearly getting them killed. How could she broach that subject without unearthing any uncomfortable truths?
"The Reverend Mother made that call," Clara said while massaging her wing back into shape.
"You never came back," Edith said.
"True," Clara said. "Did you bother to tell me that you left the order?"
"How do you know about that?" Edith asked while wiping tears from her face.
"I met you right before heading off to the Grand," Clara said. "You'd just lost your… lover… and were devastated."
"You were never there!" Edith yelled out of disbelief.
"And yet here we are, sent to Earth on a mission by Gab—," Clara said.
"Gabriel," Edith finished.
Clara nodded and smiled, hoping that Edith was letting down the wall she had built up over the decades. Despite that, Clara kept her pistol at the ready, knowing that she could not afford to hesitate. A broken wing could heal, but a well-placed strike would end her.
"Did you land in all of your glory?" Clara asked. "Or did you come to Earth looking as though you just rolled off the red carpet?"
Edith snickered and a weak smile appeared on her lips. Perhaps things were about to settle? So why was Clara still uneasy about the situation?
Clara thought back to the last time she saw laid eyes on that smile. Her friend had been an emotional mess back then too. She must have spent hours consoling a distraught Edith that day and another week in Mexico to make sure she pulled through.
In Edith's reality, they never crossed paths after being separated at the Tower. Did that mean there was a vampiric doppelgänger on the loose? The thought led Clara to wonder how that reunion would end up.
"I'm sorry," Clara said. "I really should have made an attempt to stay in touch."
Edith looked at her friend while streams of tears ran over her red cheeks. In the background, they heard a collective disappointment. Now that the worst appeared over, people were expressing their displeasure at reaching a peaceful resolution.
"So, you didn't betray me?" Edith asked.
Clara smiled and opened up her arms, "Of course not. Why would I do that to you?"
Edith seemed to hesitate while her mind struggled to come to terms with these revelations. Hunters were trained to deal with the unknown, but this was pushing it.
Eventually Edith moved in closer, opened her arms, and embraced the other in a hug. Even through the leather, Clara was warm, welcoming and enticing.
"Play with your berry patch," Clara had said.
Edith's grip tightened. She reached out and grabbed the wounded wing to grind bone against bone. As waves of pain washed over Clara, she broke free and recoiled in agony. That move left her exposed, so Edith exploited the opportunity by plunging her blade into Clara's chest.
"Your days of manipulating me are over," Edith spat.
Clara crumpled to the ground. A lung had collapsed and the cavity began to fill with blood. To hold on, she kept her breathing shallow, but it would not take long for her condition to worsen. When she tried to speak, all that came out was golden blood.
Edith towered over the wounded Clara, all the while wearing a sick smile. In her mind, Clara had been her mission all along, and severing all ties with this traitor would get her back home. Right now, all she could think of was how much she needed that to happen.
Edith grabbed another knife; her knuckles went white around the handle. For a moment, doubt crept into her mind, but that voice was quickly drowned out. She raised her hand, ready to strike, believing this blade would be her coup de grâce.
"No!" Elizabeth exclaimed.
Edith ignored the woman. In a way, this was an act of charity. Clara would be denied the chance to use that tramp as a sex toy.
"How dare you try to shift the blame!" Edith shouted.
Just as Edith was about to strike, a shot rang out, but the round flew low and ricocheted off the pavement. Elizabeth stood at the mouth of the alley, her hands shaking, eyes wide. Clearly, this woman was shocked that the shot had gone off.
Edith didn't particularly care. Given the range and the shooter's experience, there was little to no chance of getting a hit. She ignored a second shot that rang out, sure of her invincibility.
Again, she went in for a strike, just as another series of shots rang out. This time, one of the projectiles flew true. The bullet, however, did not hit home since a wing shifted on instinct to deflect the shot.
Edith turned to glare down the alley entrance. Her narrow eyes, tense jaw, and white lips were clear signs that she was fuming. She watched the crowd melt away until all that was left was the original passer-by and his phone.
When this man came to the realisation that he was the only one left to contend with her wrath, he smiled uncomfortably and disappeared around the corner. In the meantime, Elizabeth sped off into the unknown, a passenger of some nondescript cab.
Clara was nearly unresponsive by then. The golden blood that pooled around the blade was turning a dull red over time. By that point, she was not in any shape to put up much of a fight.
Edith turned back to face her former friend, the fire in her eyes rekindled, looking more like windows into the seventh layer of hell. Clara struggled to keep her eyes open. She wanted to face her death, show a bit of dignity, but not all wishes were meant to be.
"Teach you to play with her nethers," Edith said, and this time, there was no earthly force that would distract her.
Disclaimer: This chapter is currently in development. There are likely typos, errors, omissions, inconsistencies and so forth. Please do not treat this as a polished and completed work!