Skelly's Square is a paranormal fantasy written by independent author Stephen Black.
While the story is primarily focused on a young man named Kirkwood, other points of view are introduced throughout. This swap between characters is fluid and provides much needed depth to the story.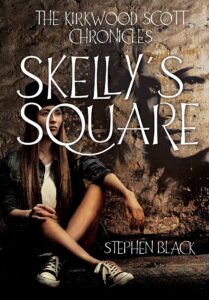 Set in Northern Ireland, Black weaves its rich history and locations into the tale beautifully. Those, like me, who are unfamiliar with The Troubles will get a sense of the effect it had on families. This works for Skelly's Square as it roots Kirkwood reality and further explains his neuroses.
Kirkwood believes he suffers from near-crippling Obsessive Compulsive Disorder, a condition which can be traced back to childhood trauma. However, doubts creep into his mind once he runs into a young woman who is sketching a portrait of his tormentor. Was this just a coincidence? Or is there something more otherworldly at play?
Ultimately, Skelly's Square is a slow burn with an explosive ending. Watch as a young man wakes up to find his life turned upside down, struggles to break free from his compulsions and discovers his true potential. Well worth a read!