Without delay, Edith headed to the source of those panicked people. Despite being in high heels, she had no trouble at all in maintaining a decent pace. Edith could run for miles, but she needed to keep strength in reserve, just in case.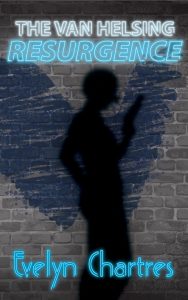 Since the gates were crowded, Edith let her wings unfold and leapt over the stone fence. This park was a massive affair. There were roadways, hard paths, and trails that crisscrossed every which way. At this time of year, the park was a sight to behold, since trees mimicked the colours of a stunning sunset. Vibrant yellows, reds, and oranges covered the foliage, while pockets of fallen leaves contrasted the still green grass.
Edith followed the stream of fleeing people, until she was able to determine the source of this disturbance. She spotted a parallel path, one that provided cover, and settled on a spot to land. Her senses were heightened and energised. To think that she almost forgot about the thrill of running into danger.
Eventually, the number of evacuees thinned out. Despite the sounds of panic, Edith could hear a whimpering child up ahead. The crying and sniffling were muted, and in the background, there was something else, something she could not identify.
To further her advance, she slowed down and slipped off her shoes. Armed with knives, Edith navigated her way through this park and did so in the utmost silence. Trudging around like a bull elephant would not only give away her position, but was sure to make her a target.
After a few minutes, she came upon a series of bushes. On the other side, the little girl was crying softly. She got down on all fours and crawled underneath the lower branches to get closer, but remained concealed. The first thing she noted was a statue that came out of Lewis Carroll's imagination.
At first, nothing appeared to be out of place. In fact, it appeared to be deserted. Under normal circumstances, that would have been an anomaly, considering the number of people fleeing the park. Fortunately, the girl sniffled, which helped Edith narrow her search.
Right behind the statue, she saw a little blonde girl, or that was her guess. Other than a patch of untouched hair, this poor creature was covered in blood. Still, the source of that blood really upped the ante. Edith was immediately filled with regret, namely cursing herself for bringing knives to this fight, when the situation called for heavy artillery.
Disclaimer: This chapter is currently in development. There are likely typos, errors, omissions, inconsistencies and so forth. Please do not treat this as a polished and completed work!