Clara's eyes opened in a flutter and revealed an immaculate world. Not only were the walls a pristine white, but so was the ceiling, floor and, alarmingly, so was her gown. Everything was imbued with a white so intense that she had trouble focusing.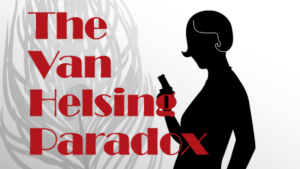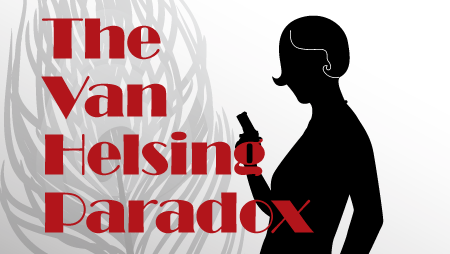 "Just ducky," Clara said although her voice did not echo back. "I'm in the nuthouse."
Clara had been in sanatoriums before, places where colour and style were relentlessly shed away to avoid upsetting a patient's fragile psyche. Of course this was the first time that Clara was there as the patient.
Occurrences were rare, but from time to time one of them would wind up in an institution. Normally they were newly turned, still clinging to their unravelling humanity. Hunters would pose as doctors or nurses to infiltrate the site and deal with the threat.
"Mister Jones," Clara said. "The doctor feels that some fresh air would do you wonders," she chuckled.
Sometimes these sanatoriums would suffer a devastating fire in the early morning, a side-effect of not reaching these patients on time. There were no official causes in the reports, but those from the order had their suspicions.
"Am I mad?" Clara asked.
That was an interesting question. Would someone suffering from a sickness of the mind be able to answer? Would they even be able to formulate the question?
After all, believing she was a well-travelled flapper who cleansed the world of the undead was bound to have people contact the nearest nuthouse. Clara could just as easily be suffering from a psychotic break. After all, she did remember being burnt to a crisp in a fiery inferno.
As the memory of Drusilla's final moments filled her mind, she had to ask what was going on. Clara reached for her face and felt her smooth clean skin. She sighed in relief, thankful that while perhaps insane, she had not been mutilated in the fire.
"That still doesn't mean that I'm sane," Clara said.
In fact, her steady heartbeat, pristine skin, and surroundings did more to lend credence that this had been nothing more than a drug-addled dream.
Clara checked her arms for needle marks but found none. At least the staff did not have to inject her with drugs to keep her docile. However, that did not preclude a steady diet of mind altering pills.
For a moment, Clara seemed to find the idea of being institutionalised somewhat alluring. A world without a care, all thanks to a state sponsored high that she could never afford at an opium den.
While she had never tried to kick the gong around, the idea of being in a blissful drug induced haze did have some perks. But were the monsters encountered throughout her life brought on by her addictions? Did they not refer to it as chasing the dragon? Could it be that for the first time in her life she was actually seeing the world clearly?
The reasonable thing for her to do was to wait for an answer. A doctor or nurse would eventually come through that door to check up on her. Wait? What door?
Clara examined every surface of this room and found it free of seams or imperfections. For lack of a better term she was inside a geometric shape. Fortunately, it was too big to be a coffin.
"So where is this light coming from?" Clara asked.
There seemed to be no specific source. It was as though she were being immersed in pure light. It certainly explained how everything was a pristine colour of white.
Where was she now? Where to begin?
"First off," Clara said. "Light."
A pure white light, flawless in every way. True perfection was often used to describe art and architecture, but perfection was a myth. People were imperfect beings who subsequently passed down their flaws to their creations.
Some occasionally told her how she was beautiful and perfect in every way. Of course that was a lie, most men said such things to get a girl in bed. She had her flaws, everyone did, so to witness true perfection was almost…
"Like being touched by God," Clara said.
Clara looked from side-to-side half-hoping that her current reality would change to reveal the truth of her situation. She supposed that simply invoking his name was not enough.
"Two," Clara said. "Trapped in a perfect geometric shape."
Again, the element of perfection implied the presence of God. Clara seriously doubted that Hecate could manage such a feat. Those three personalities would never be able to work together long enough to make such a construct possible.
"Construct?" Clara asked.
In this particular case, a blank slate. Clara was quite literally in a world without a basis in reality. She was not thirsty, hungry nor uncomfortable. How long had she been standing? Where was the fatigue? Her need to pee?
"Curiouser and curiouser," Clara said.
Alice had the benefit of transitioning from one world to the next. As she fell through the rabbit hole, Alice knew that change was afoot and she was now in unfamiliar territory.
If this was a precursor to reality, then who controlled the settings? Now that was a question that deserved an answer.
If Clara were truly insane, then the control of this construct rested with her. That meant things would be getting rather interesting. To her, it might have appeared normal, but for some hapless witness it would be a rendition of Through the Looking Glass on Opium.
If she were sane and in control, then Clara hoped she could imagine something more entertaining than this sterile scene. A mind this empty spoke volumes on the personality that spawned it.
That meant someone else was pulling the strings. Who and why were questions that she could not easily discern. She needed to peer beyond this construct to gain insight.
"What a shame," Clara said. "Yet another challenge," she sighed.
Disclaimer: This chapter is currently in development. There are likely typos, errors, omissions, inconsistencies and so forth. Please do not treat this as a polished and completed work!