The snow had stopped just as suddenly as it began. The higher atmospheric ceiling created the illusion that the shelling had moved off, but the timings remained the same.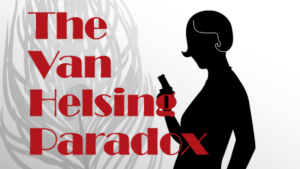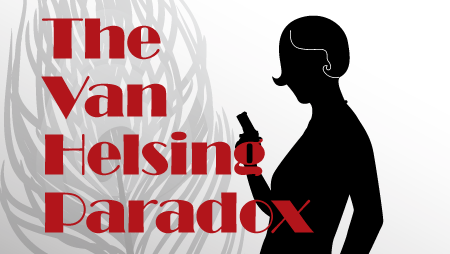 Just as the last snowflake fell to the ground there was a bright flash of light that came out from the heavens. A column of light formed ahead of the couple and a new entity made an appearance.
Clara was temporarily blinded, but a breathtakingly beautiful man soon came into focus, a real sheik who wore a stylish tailor-made suit. Clara immediately suspected that they were dealing with a Georgian, no one's appearance was that flawless.
"You're late," the female vampire said.
"Perhaps you were early," the sheik said.
Clara observed how the female bared her fangs for a moment before backing down. Whoever this man was, he had enough sway to force her to play nice for now. It was odd to see someone like her so easily declawed.
The sheik smiled and said, "Is the delivery here?"
The female scanned the area and focused on the girl's position. Both had been concealing their breathing, but it was already too late. Clara slowly and cautiously pulled out her pistol, there was no way she would go down without a fight.
"Seems our mole has drawn them here," the female said.
"The deal was for one," the sheik said.
Meanwhile the female's partner seemed strangely nervous. This was starting to look like a setup and most in the group were just beginning to realise it.
"They sent in whoever they felt was necessary to complete the mission," the female said nonchalantly. "I held my end of the bargain now you give me what I want," she hissed.
"You've only held up part of the bargain," the sheik said.
The sheik pulled something that looked like a spyglass from out of his coat pocket and instantly stretched out into a full-sized staff. Clara had heard of such things before and was now certain they were dealing with a Georgian.
When this sheik raised his staff into the air Clara took aim and fired seven rounds at him. Time appeared to slow down, the bullets came out with a puff of smoke then streaked through the night sky towards their target.
Once the first projectile reached her target, the sheik disappeared in a blast of shimmering light. In its place there was an ashen grey creature with long thin fingers and an oversized head. Its eyes were the most chilling element, large, black, and mirror like. There was no hint of emotion visible in those eyes, simply the dark reflection of one's own image.
Clara instinctively pressed down on the ejector to release the clip. She then reached into her pocket to load a fresh magazine. Once the spent clip hit the ground, so did the Georgian's body. The female's partner looked over the scene in shock, but Clara assumed that would soon change.
"So where is she," Edith asked.
"You," the female shrieked.
Out from her peripheral vision, Clara picked up the sight of Edith being hurled through the air. She guessed what would come next, without looking she raised her pistol to the side of her right ear, pointed it at a forty-five degree angle and fired three rounds.
The blast left her temporarily deafened but did little to attenuate the shriek of pain that thing made. It seemed that two of the three rounds had reached their target, much to Clara's good fortune.
Clara turned around while keeping her pistol trained on the woman and saw that distinctive blood pouring onto the snow. The thick red liquid did not melt the snow or steam in the cold, instead it coagulated and grew thicker. The blood was coalescing into a coherent mass in an attempt to return to its host.
Without a second thought Clara unloaded a full clip into that things head until the carrier remained fully to the rear. She stood there for a moment to observe but saw no movement, for now that was the best she could do.
Clara ran towards Edith and found her unconscious but no worse for the wear. She looked about and thought it best to move Edith somewhere safe. It would only get colder and she needed to make sure that some random patrol would not come across her while unconscious.
She lifted Edith onto her shoulders, then moved deeper into the church until she came across a small room. The door was still serviceable, and could be bolted from the inside, while permitting Clara to sneak out through the broken floorboards above.
Clara placed Edith down lightly and felt a chill run down her spine. Edith would probably get a lot colder if nothing were done to help her stay warm. Since lighting a fire was out of the question, Clara helped herself to one of Edith's clips and left behind her greatcoat.
Even now the chill made her shiver, so that meant she had to keep moving to stay warm. Still it would be a challenge, especially if she had to use stealth.
She ventured out towards the scene of the altercation. The body of the Georgian was gone, in fact there was no indication that it had been here at all. Hopefully those bastards had learned a lesson about playing both sides.
At least the female's body was still there. Clara then spotted a set of footsteps that led deeper into No-Man's-Land. Given an active threat lurking about, Clara knew her primary objective; so without hesitation she began her pursuit.
Disclaimer: This chapter is currently in development. There are likely typos, errors, omissions, inconsistencies and so forth. Please do not treat this as a polished and completed work!