Julia was not precisely sure on the where, once she came to. There was no music playing, no pool balls colliding, glass being smashed, or any other sounds associated with her pack. The familiar scent still lingered in the air, even the odour that clung to the walls, tagged to warn off other packs. Although there was something else… something new.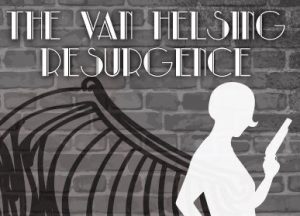 A squeak generated by metal rubbing against metal came to her ears, followed, but the sound of running water. In a room this quiet, her mind had no choice but to dwell on any stray sound. She tried her best to focus, but fragments from before clouded her thoughts.
"How long was I out?" Julia asked, and was silently relieved there were no telltale signs of humidity clinging to her bottom.
She opened her eyes, and light flooded her retinas which forced her to squint. The bright light was painful, and brought on a powerful headache that was sure to make this situation worse.
When she attempted to cover her eyes, bindings resisted the movement, and in her degraded state it took a while for her to realise she was tied up. Another series of jerks informed her that these knots were done by an expert, so they would not be getting out of them without help. So to stem the tide of her headache, Julia went limp.
"Horsefeathers," Clara said. "I don't remember getting blood out of hair being so difficult!"
"The woman," Julia said under her breath.
They had been ordered to stay inside, and even the daughter of the alpha could not countermand such a directive. Julia had not been worried, her father had killed hundreds of times before without a scratch. So how had things gone so wrong?
Her eyes eventually adjusted to the harsh light, which allowed her to focus on details in the background. The bar looked like a bad impressionist painting, and was unable to make out the details, including the time on the clock. However, Julia did have a great view of her nipples. Wait! What?
"Bitch!" Julia yelled and immediately regretted doing so, since her headache worsened.
The faucet was turned off to strangle the flow. Now the bar was dead quiet, and it made her even more aware of just how vulnerable she was. Tied up, naked, and to top it all, she had the precursor of a wicked migraine to deal with. Was there a worse way to spend an evening?
The wooden floor creaked with every step. Clara approached with a firm and measured pace, the type associated with someone who was fully in control of the situation.
"Did you just call out my name?" Clara asked.
Julia could barely focus on that bitch. In a way, she imagined this aggressor to be a giantess, muscular, and riddled with scars. Someone over two-hundred pounds of flesh and muscle, not some skinny bitch who could lend her something nice to wear for a hot date!
"You cunt," Julia mumbled.
She tried to spit at her father's murderer, but she was too dehydrated to create an effective loogie. Instead, she succeeded only in drooling over herself.
Clara giggled, before saying, "Your one of his aren't you?"
"How—How did—," Julia attempted to ask.
"You look like him," Clara replied honestly.
Clara turned and looked into a mirror to adjust the black leather bustier. It fit like a glove, although it took a bit of effort to put on, because she was half-a-size bigger in the chest than the donor. Over the bustier, she wore a leather coat fitted with heavy industrial zippers, one big enough to accommodate her wings, or at least when tucked-in close to her back.
"Hopefully I won't need to fly on short notice," Clara mused.
Her new pants were a bit short, which fit more like a pair of black leather capris. Still they would have to do, just like the boots, a small miracle, seeing as most were wearing snowshoes these days. A shame that everything had a distinct scent of dog fur, and wondered if that smell would ever fade.
"Why?" Julia asked.
Even in her weakened state, the venom pouring out from her mouth was obvious. Clara remained stoic, instead, she smiled warmly as Julia's world faded to black. The impact to the head had been an open invitation for the Sandman to pay her a visit.
Disclaimer: This chapter is currently in development. There are likely typos, errors, omissions, inconsistencies and so forth. Please do not treat this as a polished and completed work!