"Sorry I'm late!" Mason exclaimed.
He walked into the lab, and came face to face with a world that was sterile by design. Everything in this room, including the walls were a bright white with no style or flare of any kind. To most, this room would have evoked images of an early twentieth-century sanitorium. For him, this room had all of the comforts of home.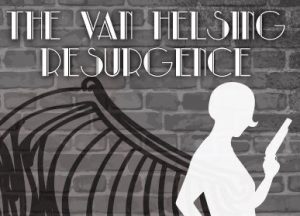 Located within the depths of an office high-rise, this lab was invisible to those who worked and visited this building. The illusion that protected the access to the inner sanctum, was simple and effective. It took a very powerful mind to see past the deception, although that was only the first level of defence.
"About time you showed up," Brett said.
Brett was physically perfect, they all were, because that had been the goal of their genetically designed appearances. Each of them could have walked off the pages of a glamour magazine; Brett a blonde Adonis, Breanna an Irish lass, and Mason the embodiment of Casanova.
"We got an indication on a divergent event that will swing the balance of power our way," Breanna said.
"What are we looking at?" Mason asked.
"The odds are better than a-million-to-one chance that this divergence will result in a step back," Breanna said.
"Seems too good to be true," Mason said. "So how did we come across this gem?"
Brett typed away on his desktop angled at a forty-five degree angle. It resembled a drafting table, and was devoid of any content except for the virtual user interface overlaid onto the surface. From this console, he could interface with any system linked to their network.
"Picked it up an hour ago," Brett replied. "This one was big enough to trigger every sensor we have. The strongest signals were from our listening stations near here, but sensors in Australia also registered it."
"Impressive," Mason said.
"No kidding," Breanna quipped.
There was excitement that permeated the air, it felt like a current was flowing between them. No one said it, and to do so would be tempting fate, but this might be their chance to get off of this primordial ooze covered rock.
"How long have I been here?" Mason wondered.
He had memories of the steam age and Pax Britannia, but little else prior to that. Still, that meant he had been on this backwater planet more than a century. They had been busy manipulating world events, or influencing key players to their benefit. All the while, they posed as a neutral party, one who sold technology to both sides of the conflict.
Every attempt made to shift things in the favour triggered an opposing force that returned the system to an equilibrium. They were responsible for plunging Europe into a continental war, all in an effort to weaken the vampire's power base. Instead, they watched as their corruption spread westward into North America, which created an even stronger power base.
The activation of a gate into the Hunters' stronghold, followed by an attack, only magnified the zealotry of those left behind. They never got the all-out war they hoped for, since the bulk of the hunters remained within the confines of the Tower. Meanwhile one of their best managed to destroy an influential vampire, which struck a serious blow to several projects their group favoured.
That time they had a-thousand-to-one odds in favour of changing balance to favour the Georgians. That had been seen as more than favourable odds, but this? Was this even possible?
"Georgians," Mason said absentmindedly. "What an awful choice of name for our kind."
"What was that?" Breanna asked.
Mason's glassy stare ended with a quick shake of his head. He desperately wanted to return to his normal form, have his cybernetic implants returned, and be linked once more to the hives group consciousness. Alas the presence of such implants were not only incompatible with their physiology, they would also raise some uncomfortable questions if discovered here.
"What?" Mason asked. "Nothing. So what's going on that could bring about such a dramatic shift?"
Brett's fingers glided over the interface with ease. Every button and available option had been committed to memory long ago. The user had an intimacy with the interface that only existed between a creation and its maker.
"Look here," Brett said.
They collectively looked up at the wall connected to the desk. The surface broke up into millions of tiny colour-shifting squares that moved independently from the whole to display a three dimensional image. In this case, the moment rendered had yet to occur.
Mason looked over every detail of the scene, but did not understand how any of this would alter world events in their favour. This scene was more deserving of a soap opera than a chapter in the history books.
There were three people visible, only one of which was human. The display included a series of overlays, which included a biometrics associated for each individual, and only one registered a body temperature above ambient.
The human sported short blonde hair cut into a fashionable bob. Her pale blue eyes, sharp features and feminine nose would have made her attractive, if not for that mousey demeanour, and physical exhaustion. This was all part of the ritual he supposed, since Breanna had not briefed him otherwise, or bothered to explain why the woman's clothes hung loosely from her frame.
The young girl was a real knockout, what with those piercing green eyes, shoulder length dark hair, and a body better suited to world class runway models. She had lips that beckoned and a smile that promised so much.
The man was harder to make out, dark hair and dark eyes enabled him to melt into the shadows. While short in stature, he was built like the strong men of old. Mason identified this one as an ancient specimen of their kind, and yet had no trouble letting his partner take the lead.
Mason and his kind had seen this place before. The altar and the pit filled with an endless supply of blood.
"Wait. Is that the Icon of Sin?" Brett asked with a snicker.
Breanna slapped the back of Brett's head before responding, "Why do you keep bringing up that video game references when we get footage of this site?"
"Hey!" Brett exclaimed. "I loved that game, besides the name fits."
In a way it did, this hall of worship featured a pedestal, and icons that celebrated the cruellest of despots, psychopaths, and murderers. This was a holy site where their kind practised some of their darkest rituals.
"Situation?" Mason asked, since it was time to get things on track.
Breanna looked away from the display and took a seat at her own workstation. At first, she appeared to be absorbing a great deal of information, but soon commented on the situation.
"Initiation ceremony," Breanna said. "The brunette, Evelyn has been manipulating that blonde since early childhood."
"To what end?" Mason asked genuinely curious, because it was rare for their kind to toy with their food for so long.
"Evelyn made sure to keep this child away from anything that could spoil her innocence," Breanna replied.
"Woman looks to be in her late twenties. How could she—," Mason was about to ask.
"Still a virgin," Breanna said flatly. "Recent events led her to quit her job and start writing a story that centred on Evelyn's life… a bit of a mind fuck ensued to prepare her… her parents were killed to start the process… Wait! Fascinating!"
"What?" the men asked.
"A herald," Breanna said.
"I don't follow," Mason said.
"The predictive algorithms are still forming the narrative," Breanna said. "But if this divergent path is strengthened. Then Victoria, the blonde, will chronicle the systematic eradication of vampires."
"How would her being turned lead to their extinction?" Mason queried.
"The company her parents founded are heavily invested in the government's military industrial complex," Breanna replied. "Her disappearance has been noticed and will trigger an investigation to determine her whereabouts. This leads to a SWAT team being decimated in an attempt to save her, which in turn, exposes their kind's existence to the general public."
Once they realised how this divergent path panned out, the current that flowed amongst them increased exponentially. Their hopes rose, and despite years of experience telling them to temper their expectations, they all cracked a smile.
"What's the primary path?" Mason asked.
Brett turned around and beamed a smile before saying, "Just enough of that scenario has solidified to show you."
Disclaimer: This chapter is currently in development. There are likely typos, errors, omissions, inconsistencies and so forth. Please do not treat this as a polished and completed work!