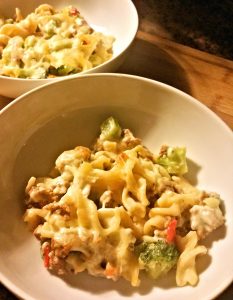 Simple ingredients and easy to prepare on short notice. This is my child's favourite supper, and never asks for it by its proper name.
A combination of Italian sausage, broccoli, egg noodles it creates a ready-to-serve meal which has a bit of kick and flavour.
Ingredients
8 ounces (225 g) of egg noodles
1 pound (450 g) of uncooked Italian sausage
14 fluid ounces (410 ml) of Alfredo sauce
⅓ cup (80 ml) of milk
6 ounces (180 g) of chopped broccoli florets
¼ cup (60 ml) of roasted red peppers
2 cups (470 ml) of shredded Mozzarella cheese (divided)
Preparation
Pre-heat the oven to 350°F (180°C).
Prepare egg noodles as per package instructions.
Oil up a large pan then place over medium heat. Take thawed Italian sausage, slice open the casing then pour the contents into the pan. Breakup and fry until cooked, drain then set aside.
In a large bowl, combine Alfredo, milk, sausage, broccoli and ½ cup (120 ml) of cheese and roasted red peppers.
Oil a baking dish, dispersed the contents of the bowl inside then sprinkle with remaining cheese.
Bake for 30 minutes or until the cheese is lightly browned.

Sausage and Broccoli Casserole by Evelyn Chartres is licensed under a Creative Commons Attribution-ShareAlike 4.0 International License.