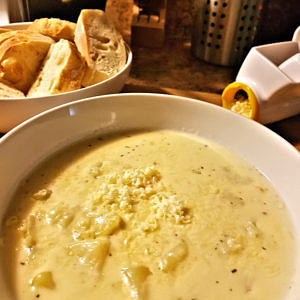 Here is my recipe for a seafood chowder made up of scallops, shrimp, lobster and haddock. Sauté the ingredients first to infuse the meat with flavour then simmer until ready to serve. For an additional zing, top with some shredded cheddar cheese.
Ingredients
2 cups (470 ml) of coarsely diced potatoes
4 to 6 tablespoons (60 to 90 ml) of butter
½ cup (120 ml) of finely chopped onions
2 cloves (5-10 g) of pressed garlic
½ pound (225 g) of scallops
½ pound (225 g) of peeled jumbo shrimp
½ pound (225 g) of lobster meat
½ pound (225 g) of diced haddock
1 teaspoon (5 ml) of Herbes de Provence or Italian seasoning
Salt
Pepper
1 quart (950 ml) of cream
¼ cup (60 ml) of water
2  tablespoons (30 ml) of cornstarch
¼ cup (60 ml) of grated old cheddar per person (optional)
Instructions
Cook potatoes in the microwave for 3 to 5 minutes or until soft.
In a 4 quart (3.75L) pot, over medium heat, add butter and melt.
Add onions and garlic, sauté until the onions are transparent.
Add shrimp, scallops, haddock and lobster and sauté. If necessary change the order so that the meats cook evenly.
Add potatoes, and spices. Stir to mix.
Add cream, bring to a boil, and simmer under low heat for at least an hour.
Mix water and cornstarch in a small bowl. Slowly blend into the soup to thicken. Chowder is thick enough when spices and butter no longer work its way to the surface. Add more cornstarch if necessary to make it thicker.
Pour into a bowl, cover in grated cheese and ready-to-serve. Makes about six bowls.

Seafood Chowder by Evelyn Chartres is licensed under a Creative Commons Attribution-ShareAlike 4.0 International License.