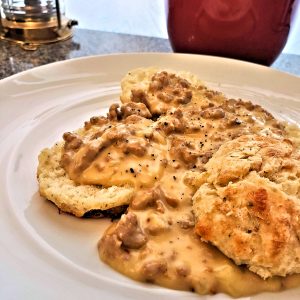 Biscuits and Gravy is a favourite down south. While not as common here, this recipe makes for a thick and hearty breakfast that is sure to put a smile on your face.
So what's my secret? Smoked cheddar!
Ingredients
Biscuits
2 cups (470 ml) of sifted white flour
4 teaspoons (20 ml) of baking powder
1 tablespoon (15 ml) of white sugar
1 teaspoon (5 ml) of Italian seasoning
½ teaspoon (2.5 ml) of salt
2 cloves (5-10 g) of garlic (crushed)
¼ cup (60 ml) of butter (shredded or cut into small cubes)
½ cup (120 ml) of old cheddar (shredded)
½ cup (120 ml) of aged smoked cheddar (shredded)
1 cup of milk
Gravy
1 pound (450 g) of pork sausage
1 tablespoon (15 ml) of butter
½ cup (120 ml) of finely chopped onions
2-4 cloves (10-20 g) of garlic (crushed)
⅓ cup (80 ml) of sifted flour
3-4 cups (710 ml to 945 ml) of milk
Instructions
Biscuits
Pre-heat oven to 425°F (220°C).
Mix the first five ingredients in a medium-sized bowl.
Add in garlic and cheese, mix until cheese is coated.
Add in butter, blend by hand until you have a consistent mix.
Add milk and knead lightly.
Drop mixture onto a large flat surface. Roll into ¾ inch (2 cm) thickness. Use a cutter or glass to make individual pieces.
Place on a baking pan and place in the oven for 13 to 15 minutes. Tops should be golden brown.
Gravy
On medium-heat in a large pan, melt butter.
Take the sausage, slice open the casing then pour contents into the pan. Breakup and fry.
Once sausage is mostly cooked through, add onions and garlic sauté for a couple of minutes. Do not drain.
Blend in about ⅓ of the flour at a time.
Once sausage is neatly coated with the flour, add 1 cup of milk to the pan. Once you reach the desired consistency, simmer to thicken.
When ready, serve on top of biscuits.

Smoked Cheddar Biscuits and Gravy by Evelyn Chartres is licensed under a Creative Commons Attribution-ShareAlike 4.0 International License.