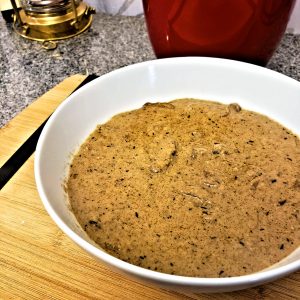 Cream of mushroom soup is a classic. So much so that the canned variant is a base ingredient for many quick and easy to make recipes. This recipe calls for whole mushrooms, simple ingredients, and adds smoked cheddar for some zing!
While this recipe purées half the soup to thicken it. You can vary the recipe to adjust the texture.
Ingredients
20 ounces (565 mg) of Shiitake, and Cremini mushrooms (roughly half and half).
3 tablespoons (45 ml) of butter
3 tablespoons (45 ml) of olive oil
½ cup (120 ml) of finely chopped onions
2 cloves (5-10 g) of garlic (pressed)
1 teaspoon (5 ml) of thyme
½ teaspoon (2.5 ml) of salt
¼ teaspoon (1.25 ml) of pepper
1 tablespoon (15 ml) of soy sauce
2 cups (470 ml) of vegetable broth
1 cup (235 ml) of heavy cream
½ cup (120 ml) of aged smoked cheddar (shredded)
Instructions
Rinse and lightly pat dry the mushroom. Slice them to the desired thickness. Set aside when done.
Using a small oiled pan, sauté onions and garlic until onions are transparent. Set aside when done.
Separately, using a 4 quart (3.7 l) pot, melt butter and olive oil on medium heat.
Add sliced mushrooms to the pot. Sauté until volume is reduced by half, leaving behind a rich broth.
Add onions, garlic, thyme, salt, and pepper to the pot and stir.
Add soy, and vegetable broth. Stir until you have a consistent finish.
Gradually introduce the cream while stirring and let simmer for five minutes.
Remove from heat, let cool for 10 minutes, and divide.
Use a blender to purée half of the contents. Add back to the pot and return to heat.
Add in shredded cheese, stirring to melt. Simmer for 15 minutes.
Pour into bowls and ready-to-serve.

Smoked Cheddar Cream of Mushroom Soup by Evelyn Chartres is licensed under a Creative Commons Attribution-ShareAlike 4.0 International License.