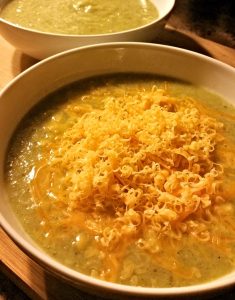 A country broccoli soup which I enjoyed as a child. This recipe features a creamy finish without the need for cream or milk. Cover with grated old cheddar to give the soup that extra kick!
Ingredients
18 ounces (500-575 g) of chopped broccoli
11 ounces (300 g) of chopped potatoes
1 tablespoon (15 ml) of oil
1 tablespoon (15 ml) of butter
4 ounces (115 g) of onions
1 clove (5-10 g) of garlic
30 fluid ounces (900 ml) of chicken broth
½ teaspoon (2.5 ml) of pepper
½ teaspoon (2.5 ml) of cumin
¼ cup (60 ml) of grated old cheddar (per person)
Preparation
Over medium heat add oil and butter. Heat until the butter has melted.
Add onions and garlic, sauté until the onions are transparent.
Add broth, broccoli, potatoes, pepper and cumin then stir.
Bring to a boil then drop to low heat to simmer. Stir occasionally for about 25 minutes or until potatoes easily break apart.
Remove from heat for 5 to 10 minutes to cool. Use a blender or mixer to break-down broccoli and potatoes until you have a creamy finish.
Heat on low until the soup is hot.
Pour into a bowl, cover in grated cheese and ready to serve. Makes about six bowls.

Soupe Paysanne au Brocoli by Evelyn Chartres is licensed under a Creative Commons Attribution-ShareAlike 4.0 International License.