Spaghetti and Meat Sauce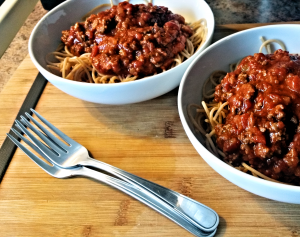 Every major North-American city has an Italian district and Montréal is no different. This recipe has been in my family for generations and serves as a base for other dishes.
For example, I used this sauce with fries and cheese curds to make an Italian poutine. It also makes an excellent base for a Lasagna.
Ingredients
38 fluid ounces (1125 ml) of stewed tomatoes coarsely chopped
5½ fluid ounces (160 ml) of tomato paste
1 pound (450g) of lean ground beef
1 onion (approximately 50 g) finely chopped
2 cloves (5-10 g) of minced garlic
1 tablespoon (15 g) of butter
1 tablespoon (15 g) of olive oil
1 tablespoon (15 g) of sugar
2 teaspoons (10 g) of salt
1 teaspoon (5 g) of pepper
1 teaspoon (5 g) of celery salt
½ teaspoon (2.5 g) of crushed red pepper
½ teaspoon (2.5 g) of Italian seasoning
Preparation
On medium high in a large pan, melt butter and pour olive oil.
Sauté onions and garlic until onions are transparent but not brown.
Add beef and cook until the meat is no longer pink.
Sprinkle in salt, pepper, celery salt, crushed red pepper, Italian seasoning and sugar to the meat. Stir contents to ensure an even mix.
Reduce heat and add in stewed tomatoes. Simmer for 10 to 15 minutes.
Stir in the paste to thicken the sauce. Simmer while covered for another 15 to 25 minutes until the sauce is nice and thick.

Spaghetti Italien by Evelyn Chartres is licensed under a Creative Commons Attribution-ShareAlike 4.0 International License.