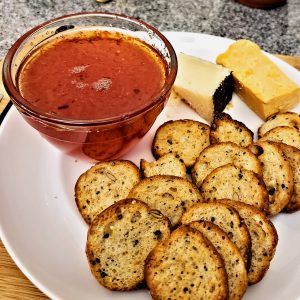 Sweet red pepper jelly is a recipe that combines a sweet jelly with a hint of heat, to enhance the flavour. Goes well with a cheese, such as with a baked Camembert, or a bagel topped with cream cheese and jelly. Delicious!
Ingredients
1 cup (235 ml) of red bell peppers, seeded and chopped
½ jalapeno, seeded and chopped
3 cloves (15-30 g) of roasted garlic
1 cup (235 ml) of apple cider vinegar (divided)
3 cups (710 ml) of sugar
¼ teaspoon (1.25 ml) of crushed Chile flakes
3 fluid ounces (85 ml) pouch of liquid pectin
Preparation
Using a blender or food processor, purée peppers, garlic, and ½ cup (120 ml) of vinegar until smooth.
Open a pouch of pectin and keep within arm's reach of the stove.
In a large saucepan, combine all ingredients (including the remaining vinegar) except for the pectin. Bring to a boil on high heat, stir frequently using a whisk.
At high heat, let boil for 10 minutes while stirring constantly. At this stage, foam will expand considerably, be careful not to have it overflow.
Pour in pectin, continue to stir for 1 minute. Remove from heat, and skim off any remaining foam.
Pour into containers and allow it to cool. Refrigerate once cool.
Optional: Store jelly in glass jars using standard canning procedures.

Sweet Red Pepper Jelly by Evelyn Chartres is licensed under a Creative Commons Attribution-ShareAlike 4.0 International License.