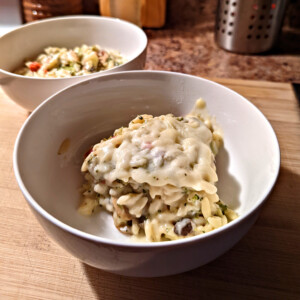 A fresh take on a rice and broccoli casserole. This dish swaps rice for orzo, while adding sautéed mushrooms, red pepper, and smoked cheddar for flavour. While the ingredients appear daunting, this recipe is quick and easy to make, providing a ready-to-serve meal that will be sure to please.
Ingredients
2 cups (500 ml) of thawed broccoli
2½ cups (600 ml) of chicken broth
1¼ cup (275 ml) of orzo
1/3 cup (30 ml) of butter
1 can (285 ml) of sliced mushrooms
1 teaspoon (5 ml) of cumin
½ cup (120 ml) of finely chopped onions
¼ cup (120 ml) of chopped roasted red pepper
1 can (285 ml) of condensed cream of mushroom soup
½ cup (120 ml) of milk
½ cup (120 ml) of shredded cheese (roughly 45 g)
¼ cup (60 ml) of smoked cheese (roughly 20 g)
½ teaspoon (2.5 ml) of Italian Seasoning
1 cup (250 ml) of shredded cheese (roughly 90 g)
Instructions
Pre-heat the oven to 325°F (165°C).
Finely chop broccoli. Set aside.
In a medium saucepan, bring broth to a boil. Add Orzo, reduce heat and simmer until broth is absorbed. Melt in 1 tablespoon (15 ml) of butter to give the orzo a creamy finish. Remove from heat.
Melt butter, remaining butter in a medium pan. Sauté mushrooms and cumin. Once the mushrooms begin to brown add onions and red pepper. Continue to sauté until the onions are transparent. Remove from heat.
Mix ingredients (except for the last cup of cheese) in a large bowl until you have a consistent finish.
Transfer to a casserole dish and cover in shredded cheese.
Bake for 30 minutes or until the cheese is bubbly and browned.