Eyes on the Road is the first book of The Winding Road series, a coming of age story co-authored by Kerri Davidson and Mark Gelinas. This novel is written from the point of view of two characters, both of whom are seeking an escape from their post high school lives.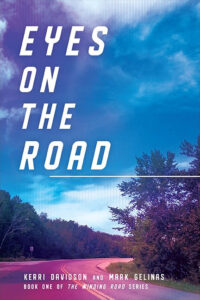 This story begins in a small town in Atlantic Canada and ends in the comparative metropolis of Seattle. Setting the story in an era where Grunge and Alternative bands ruled the hearts and minds of Generation X gave this reader an eerie sense of déjà vu.
Having lived through this time, the authors' choice of theme and time period felt a bit like a drive down memory lane. Parents of teens from the mid-nineties may gain a new understanding of their children's mindset. Alternatively, for those born into such a heavily interconnected world, the story dredged up challenges and quirks of an era that is fast fading from our collective memories.
This is a quick read that gives the reader a unique perspective on two young adults. Their interactions with the world and one another permit them to gain a fresh outlook and come out better for it. The story provides a satisfying ending that leaves enough of an opening to entice you to read further into the series.