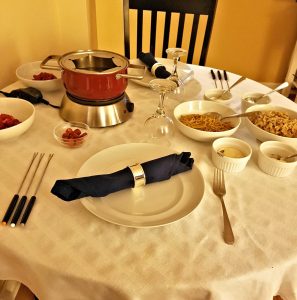 A fondue bourguignonne is oil-based and the oil is often infused with flavour using ingredients such as bay leaves, garlic and rosemary. Guests dip in bite-sized cubed beef into the pot to cook the meal.
Given the popularity of deep-fried pepperoni here at local pubs, I have taken to serving up sliced pepperettes in addition to beef and shrimp. This addition adds some spice to the dish and is delicious with the honey-mustard dip.
While this recipe recommends grapeseed oil, my fondue pot's manual recommends the use of peanut oil instead.
(more…)