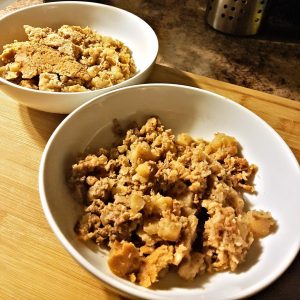 The
tourtières
hailing from the Lac-Saint-Jean region in Québec are slow-cooked deep-dish meat pies made with potatoes and various meats cut into small cubes or diced.  Some families will serve it as-is or topped with a hunter sauce gravy or ketchup.
Ingredients
Crust*
3 cups (705 ml) all-purpose flour
½ pounds (225 g) of vegetable shortening
1 tablespoon (15 ml) of baking powder
1 teaspoon (5 ml) of salt
Water as needed
Meat Pie
½ pounds (225 g) pork minced**
½ pounds (225 g) beef minced**
1 large onion, chopped
3 cloves of garlic, chopped
3 lbs (1.3 kg) potatoes, peeled and diced
Salt and pepper
Preparation
In a large bowl, combine the meat, onion, garlic, and potatoes. Season with salt and pepper.
In second large bowl, combine flour, shortening, baking powder, and salt.  Hand knead the mixture until malleable, it should not break apart or be too sticky to handle.
Sprinkle a light layer of flour on a flat surface then drop ball in the middle. Use a rolling pin to flatten crust to a consistent thickness.
Use a pot large enough to accommodate meat and potatoes. Place on top of the crust then cut out an area larger than bottom by about 2 inches (5 cm).  Make cutout of crust and place in the bottom of the pot.  Place some of the meat and potatoes composition crust is nearly covered.
Build up the walls with crust until the entire mixture of meat and potatoes transferred to the pot.  Use the remaining crust to cover the pie entirely then punch a thumb-sized hole through the centre of the pie.
Through punched hole, fill the meat pie with water until just below crust. Place the pie in the fridge (covered) for 5 hours or until ready to place in the oven.
Start the oven and set to 325°F (170°C). Place pie in oven for about 30 minutes, giving the crust time to dry out.
Drop temperature to 275°F (135°C), cover with tin foil then let contents stew for approximately 12 hours.
Periodically check the pie to maintain water level. At about the 6-hour mark, refill for the last time to let the pie dry out a bit prior to serving.  You can adjust this step as necessary based on how often you need to replenish the water.
Pull from the oven and scoop contents with a large serving spoon on plates.
*     Pre-made pie crusts may be used instead of making the crust from scratch.
**     Meat may be processed through a large-bore grinder to save time.

Tourtière du Lac-Saint-Jean by Evelyn Chartres is licensed under a Creative Commons Attribution-ShareAlike 4.0 International License.