Haddock au Gratin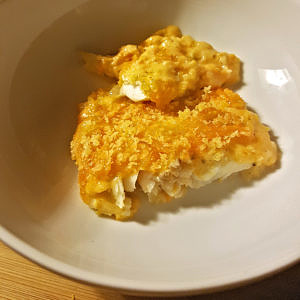 A lot of people I know avoid eating fish. They either do not like the texture or the taste; at least until they try this recipe.
This recipe combines Haddock with an easy to make cheese sauce and Panko breadcrumbs. For this recipe, haddock can be substituted with Cod, Tilapia or any other fish that strikes your fancy!
Ingredients
1¼ pound (575 g) of fillets of haddock
¼ cup (60 ml) and 1 tablespoon (15 ml) of butter
⅓ cup (80 ml) or 3 ounces (45 mg) of finely chopped onions
2 cloves (5-10 g) of pressed garlic
⅛ teaspoon (0.625 ml) of cumin
5 cups (1,200 ml) or about 12 ounces (340 g) of old cheddar cheese (divided)
2 tablespoons (30 ml) of flour
1 cup (235 ml) of milk
½ teaspoon (2.5 ml) of Italian seasoning
¼ teaspoon (1.25 ml) of pepper
½ cup (120 ml) of Panko breadcrumbs
Preparation
Pre-heat the oven to 350°F (175°C).
Thaw and pat dry fish fillets.
In a greased 12×9 inch casserole dish, line bottom with fillets.
In a small pan melt 1 tablespoon (15 ml) of butter over medium heat.
Add onions, garlic and cumin. Sauté until onions are transparent.
Spread sautéed onions and garlic over fillets.
Shred cheddar cheese and set aside.
Use a 1.5 quart (1.4 l) saucepan on medium heat; melt butter then add flour. Cook for 1-2 minutes.
While stirring, add milk gradually and make sure there are no lumps.
Gradually add three cups (700 ml) of cheese to the saucepan. Continue stirring to integrate the cheese.
Add Italian seasoning and pepper to sauce. Stir then remove from heat.
Cover fish fillets with cheese sauce, sprinkle with remaining shredded cheese and breadcrumbs.
Place in the oven and cook for 20-25 minutes or until the cheese has browned. Remove from the oven and let cool for 10 minutes before serving.

Aiglefin au Gratin by Evelyn Chartres is licensed under a Creative Commons Attribution-ShareAlike 4.0 International License.