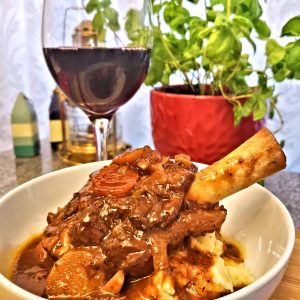 A fine recipe that can quickly become a family favourite. Braised lamb, simmered in a red wine sauce for hours until the meat is ready to fall off the bone. Serve atop mashed potatoes with some fresh bread to turn this dish into a feast.
Ingredients
¼ cup (60 ml) of sifted flour
1 teaspoon (5 ml) of salt
1 tablespoon (15 ml) of pepper
4 lamb shanks, approximately 2-3 pounds (1 to 1.5 kg)
¼ cup (60 ml) of cooking oil
1 cup (240 ml) of coarsely chopped onions
6 cloves (10-15 ml) of coarsely chopped garlic
1 large chopped carrot
2 large chopped parsnips
1½ cups (360 ml) of red wine
2 cups (480 ml) of beef stock
5½ fluid ounces (150 ml) of tomato paste
1 teaspoon (5 ml) of Herbes de Provence
2 teaspoons (10 ml) of thyme
Instructions
In a large skillet on medium heat, add oil.
In a large resealable bag, add flour, salt, and pepper. Add in one shank at a time, shake to coat.
Sear lamb shanks, 1 or 2 at a time. Remove from heat and set aside once the meat has ceased. Set aside.
In an oiled 4 quarts (3.8 l) pot on medium heat, add carrots and parsnips. Simmer for 2-3 minutes.
Add garlic, onions, and remaining contents of the resealable bag. Stir and simmer until the onions are coated and transparent.
Add the wine. Deglaze the pan by scraping up the browned bits .
Add beef stock and tomato paste. Stir until you have a consistent finish and bring to a boil.
Add lamb shanks to the pot. Stir and reduce heat to a simmer.
Simmer covered for 3-4 hours. When the meat is tender and falls off the bone, remove from heat.
Serve over mashed potatoes or buttered noodles.

Braised Lamb Shanks by Evelyn Chartres is licensed under a Creative Commons Attribution-ShareAlike 4.0 International License.