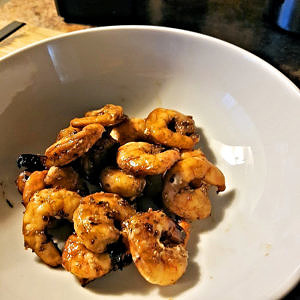 A shrimp marinade made with a homemade Italian vinaigrette. Ingredients are readily available, easy to assemble and the flavour will blow you away!
Ingredients
1 teaspoon (5 ml) of salt
2 teaspoons (10 ml) of Dijon mustard
1 tablespoon (15 ml) of brown sugar
¼ cup (60 ml) of balsamic vinegar
½ cup (120 ml) of olive oil
1 clove (5-10 g) of garlic (pressed)
¼ teaspoon (1.25 ml) of herbes de Provence
1 pound (450 g) of shelled shrimp
Instructions
In a resealable bag, place all ingredients and shake until you have a consistent mixture.
Refrigerate for at least four hours (preferably overnight) to marinate the shrimp.
Soak the skewers in water for an hour to prevent burning while over the grill.
Arrange the shrimp on skewers, set aside some of the vinaigrette.
Grill over a barbecue and baste occasionally with vinaigrette. Meat is ready once it has a consistent pink colouring.
Pull from the grill, ready to serve.

Brochettes de Crevettes Mariné à Vinaigrette Italienne by Evelyn Chartres is licensed under a Creative Commons Attribution-ShareAlike 4.0 International License.