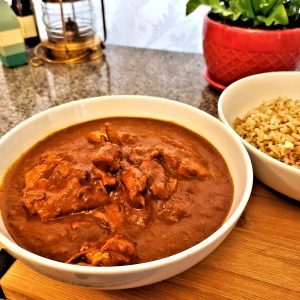 Don't let the ingredients list deter you. This dish is quick and easy to prepare. It makes for a flavourful and spicy chicken dish that is sure to leave a smile on your face.
Ingredients
2 tablespoons (30 ml) of curry
4 teaspoons (20 ml) of cumin
1 teaspoon (5 ml) of coriander
1 teaspoon (5 ml) of cardamom
⅔ teaspoon (3.34 ml) of cinnamon
⅓ teaspoon (1.67 ml) of cloves
⅓ teaspoon (1.67 ml) of nutmeg
2 teaspoons (10 ml ) of pepper (divided)
1 teaspoon (5 ml) of salt
1½ pounds (675 g) of boneless and skinless chicken thighs
¼ cup (60 ml) of butter
½ cup (60 ml) of finely chopped onions
2 cloves (5-10 g) of pressed garlic
14 fluid ounces (398 ml) of coconut milk
5.5 fluid ounces (160 ml) of tomato paste
1 tablespoon (15 ml) of honey (optional)
Preparation
In a small bowl, mix spices (from curry to nutmeg), including 1 teaspoon (5 ml) of pepper. Set aside.
Salt and pepper chicken. On medium-high heat over a well-oiled pan, fry chicken until outside is seared. Remove from heat and set aside.
Melt butter in a 3 quart (2.8L) saucepan over medium heat.
Add onions and garlic to the pan. Sauté until the onions are transparent.
Add the bowl of spices, and stir until the contents take on the consistency of paste.
Add coconut milk, and tomato paste. Mix until you have a consistent finish and bring to a boil.
Add chicken and bring to a simmer on low. Simmer for about an hour, or until the chicken breaks apart.
If too spicy, add honey to temper the spice.
Serve with brown Basmati rice and vegetables of choice.

Butter Chicken by Evelyn Chartres is licensed under a Creative Commons Attribution-ShareAlike 4.0 International License.