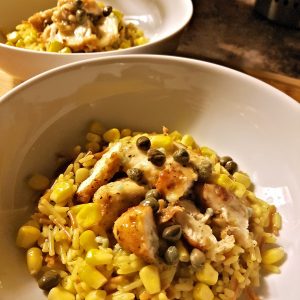 Ingredients
⅓ cup (80 g) and 1 tablespoon (15 ml) of all-purpose flour
½ teaspoon (2.5 ml) of salt
½ teaspoon (2.5 ml) of pepper
¼ teaspoon (1.25 ml) of lemon pepper
1 pound (450 g) of chicken breasts
2 teaspoons (10 ml) of olive oil
1 teaspoon (5 ml) of butter
2 cloves (5-10 mg) of garlic pressed
¾ cup (180 ml) of chicken broth
1 tablespoon (15 ml) of lemon juice
¼ teaspoon (1.25 ml) of Italian seasoning
1 tablespoon (5 ml) of capers
Preparation
In a resealable bag mix ⅓ cup (80 ml) of flour, salt, pepper and lemon pepper.
Cut chicken breasts in half, place one piece at a time into a bag, shake to cover.
In an oiled medium pan on medium heat. Cook chicken on all sides until the meat is no longer pink in the centre. Set aside, keep warm using tin foil.
Scrap up brown bits from the pan and set aside.
In a small saucepan, add oil and butter. Melt butter on medium heat.
Add garlic and sauté for a minute.
Add 1 tablespoon (15 ml) of flour and stir until you have a consistent mix.
Add chicken broth, brown bits, lemon juice and Italian seasoning. Continue heating and stir until sauce thickens.
Add in capers and wait until heated through.
Serve chicken covered with sauce. Makes roughly four portions.

Chicken Piccata by Evelyn Chartres is licensed under a Creative Commons Attribution-ShareAlike 4.0 International License.