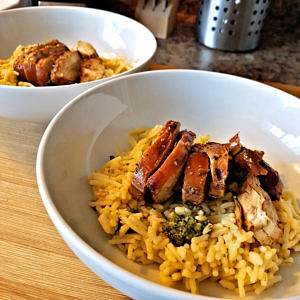 A tasty marinade using molasses, cognac and balsamic vinegar This dish is typically grilled then cut up into tender bite-sized pieces.
This recipe can also be frozen prior to cooking and later pulled out for use, so you don't need to carry all of the individual ingredients. An excellent option when spending the weekend at a cabin; freeze and it's ready to cook once thawed.
Ingredients
¼ cup (60 ml) of molasses
¼ cup (60 ml) of  cognac
2 tablespoons (30 ml) of balsamic vinegar
1 pound (450 g) of chicken breasts
Instructions
In a freezer bag, add all ingredients and mix thoroughly.
Use a straw take out any excess air before sealing bag.
Place in the fridge for at least three (3) hours or preferably overnight.  Mix contents of bag occasionally.
Grill chicken until meat is cooked throughout.  Baste with remaining marinade to enhance flavour.
Cut up chicken breasts into bite-sized pieces. Ready to serve.

Cognac and Molasses Marinade by Evelyn Chartres is licensed under a Creative Commons Attribution-ShareAlike 4.0 International License.