Digital Alchemy – Part 3
This is part 3 of the Digital Alchemy tutorial and previously we Isolated the Rose for later use in these tutorials.
Another visual element that one can change the overall feel of the portrait is the Lady's lips. The steps outlined below are reminiscent of those employed in On Cloning and Layers and Isolating the Flower.   From the Layers Palette select New Raster Layer.

A pop-up will appear; follow the settings below. When complete, click on OK to Create the New Raster Layer.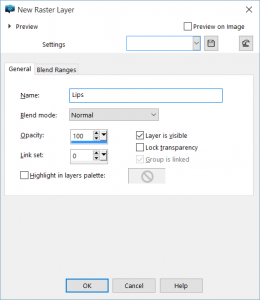 Use the Clone Brush in the Tools Bar then select a Source from the copied image. As done in the previous section, select a Target point on the Lips layer, in order to make a copy of her lips.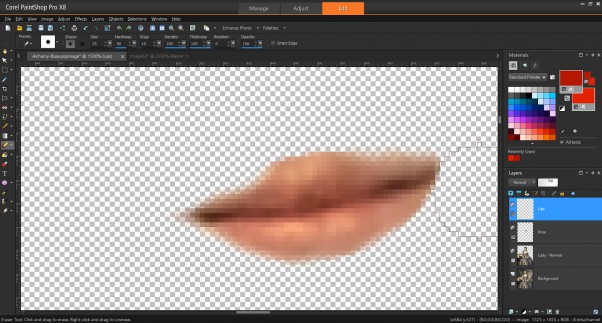 Note
Do not worry about accuracy at this point; use the Eraser Tool to correct any problems later. In fact, it may be beneficial leave in a buffer.
Next in Part 4 we will embody the expression Let There be Night.

Isolating the Lips by Evelyn Chartres is licensed under a Creative Commons Attribution-NoDerivatives 4.0 International License.