Fallen Angels is the second book in the Behind Blue Eyes series, written by independent author Anna Mocikat. This story begins with the premise that someone is killing members of the Guardian Angels, an elite band of cyborg soldiers.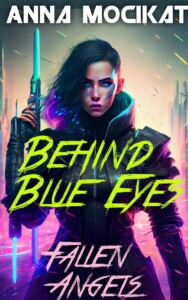 This noir cyberpunk story kicks off roughly a year after the events of the first book. Anna Mocikat again introduces us to the Archangel Nephilim, who has been reset to factory settings.
Now the compliant and efficient killing machine that the High Archangel expects, doors open for her. This gives us a glimpse of the political players that influence this utopian society. We watch as relationships blossom, while memories of the gap year come pouring in as bits and pieces.
This book is loaded with action, intrigue, foreshadowing, and of course sex, which will not disappoint fans. I found this quick read difficult to put down. Fortunately, there are plenty of natural pauses in the book.
As with Behind Blue Eyes, there are multiple elements at play, and Olympias' enemies have not been idle. How some of these parts come into play has yet to play out, and for you just need to pick up a copy of War Games.