Behind Blue Eyes: Last Stand is the fourth book in the Behind Blue Eyes series written by independent author Anna Mocikat. This noir cyberpunk story kicks off shortly after the events of War Games and runs head on into a high stakes mission.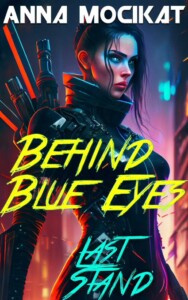 Fans of the series will not be disappointed by this release. There are battles throughout, replete with the brutal violence that one can expect from cyborg soldiers. Many of the side characters' storylines progress, giving the reader a glimpse at the lives of those not on the front line.
Overall, this book has a narrower focus. The time span from start to finish is measurable in days, focusing on the shadowy opponent of Rosprom. Not to worry, the other threats are still out there lurking in the next book in the series, The Tigress!
Last Stand is a fast-paced, high stakes read that proves Mocikat has a few surprises up her sleeve. Highly recommended!