G.M. Nair has blessed us with Duckett and Dyer: The One-Hundred Percent Solution, the second in a series that features Michael Duckett and Stephanie Dyer, two private investigators who have a habit of finding trouble, no matter where they go.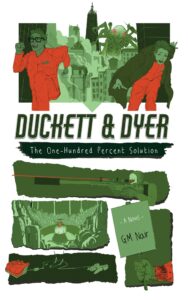 This story takes off a few months after the events of the last book end. After the pair's last hijinx-filled adventure, there were hints that something else was at play. The author does not disappoint by launching our heroes right back into the thick of things.
Nair also brings back several memorable characters, providing us with a mixture of salty and sweet. We are even regaled with a bit of backstory, interwoven with the main storyline, which hints that not all is well in the multiverse.
This story has much of the same flavour as its predecessor. The humour prevails and promises a few zigs where the reader would expect a zag. This is truly where G.M. Nair's imagination shines.
If you want a solid read that ventures into the realm of the random and absurd, then this novel is for you!