The Original Superheroes is a superhero fantasy novella written by independent author Kayla Hicks. This is the second book in The Backup Superhero series and predominantly takes place a quarter of a century prior to the events of the first book.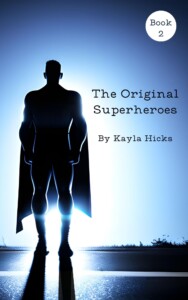 This story follows a patrol officer named Frank who crashes his police cruiser during a high-speed chase through the city. While on medical leave he discovers the case has gone cold, and takes matters into his own hands.
Frank soon finds himself neck-deep in the criminal underworld replete with tenebrous links to law enforcement. His choices will not only shape his career, but the future of law enforcement in the city.
The Original Superheroes is a gritty tale that will keep you glued to your seat. As with The Backup Superhero, realism sells this story. Well worth a read!