I just finished off a book by Stephanie Wood titled Aegean Sun: Room 101. I came across this series of books when she posted — I don't write like other writers, but it's all write! — which delved on writing styles. Stephanie and I seem to have similar styles so I picked up quite copy.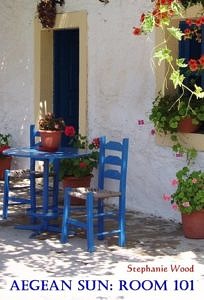 Stephanie sums it up from the start. These individually crafted stories are echoes from the past, memories of events that took place in a fairly regular and nondescript room.
It was a light read, which I thoroughly enjoyed! I could easily dedicate scraps of time to it without getting lost. Nonetheless I had no desire to put the story down unless life insisted on it.
I felt a connection to the characters, simply by reading about their thoughts and emotions. There were also several scenes which were eerily familiar, bur that only made it more enticing.
This in turn, this left me wondering what happened to them after they left. So I am very tempted to pick up the sequel and find out!

Evelyn Reads Through Aegean Sun: Room 101 by Evelyn Chartres is licensed under a Creative Commons Attribution-ShareAlike 4.0 International License.