I have just finished reading Avenging Fate by Jennifer Derrick and I must say that I am impressed!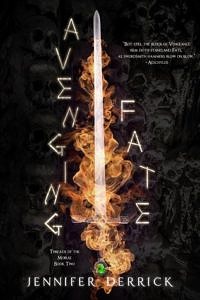 Where Broken Fate set the board and ultimately led to the fall of Death Fate. Avenging Fate brings us forward into a world thrown into chaos. Jennifer Derrick explores how manipulation, betrayal and love can have global consequences.
The author branches out from the affairs of gods and the humans who toil on Earth. These new elements really make her world shine! Jennifer Derrick breathes life into a plethora of new characters, some with backgrounds shrouded in mystery. She also brings forth creatures of myth who both managed to surprise me and kept me wanting more.
Avenging Fate ended at a good point for this continuing tale. The various threads were tied up nicely, but it left things open for another sequel (or more). Alas, I will have to wait until the next book is released to find out more.
I certainly look forward to it!

Evelyn Reads Through Avenging Fate by Evelyn Chartres is licensed under a Creative Commons Attribution-ShareAlike 4.0 International License.