Clara left the bathroom while Elizabeth was in the shower. Her friend was humming to some nineteen-nineties tune that Clara never heard of and given the length of her hiatus, that was hardly surprising.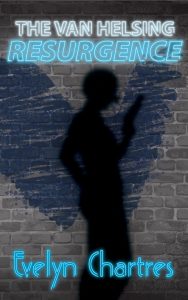 Clara paused when a draught of cold air ran up her towel. Her freshly shaved berry patch was more sensitive than normal which caused her to shiver, an unexpected although pleasant reaction.
She walked deeper into the living room and let the towel drop into the floor. She immediately reached for her bustier and slipped it back on. The cool leather felt great against her soft skin and it invigorated her senses. Odd how these experiences made her miss these small pleasures of life.
Paradise lacked all those elements in life that made people uncomfortable. Heaven was never too hot, too cold, too humid, or too windy. In return, the joys of kissing warm lips in the cold rain or running across the crinkly grass after a morning frost were absent. Until now, Clara had not realised just how much of that she missed.
After Clara finished slipping on her leather pants, there came an applause from behind the kitchen island. As the clapping hands echoed throughout the apartment, the sound of running water abruptly stopped, along with all other sources of white noise.
Clara had experienced this situation before, and was not looking forward to this particular reunion. She considered reaching out for the sawed-off shotgun, but figured she ought to be polite for now.
"It's been a while," Clara said.
She turned around slowly to avoid an early confrontation. The last time, these sisters had fed off one another's delusions, which resulted in Clara taking a bolt of energy to the chest. Still, despite losing her life in that attack, Clara had managed to rid the world of a long-time foe. Not a bad way to buy earn her passage into Heaven.
Sure enough, the sisters were sitting at the kitchen island. Just like last time, they wore contemporary attire, more feminine than what Clara was wearing. They all wore a long skirt that flowed down to their ankles, a lightweight, sheer, gauzy blouse, and jewellery to compliment the entire affair. In effect, the sisters were dressed to blend in.
The silvery sister who wore a locket adorned with a key, marking her as the goddess of the moon, sat in the middle. Her face and aura reminded Clara of the moonglade and she doubted that effect was coincidental.
The one on Silver's right glowed blue as current flowed through her entire body. Sparky, so named because she glowed like a spark gap transmitter, wore a locket that bore the imprint of a lantern. This was the goddess of magic and judging from those glowing eyes, she was poised to strike.
"Odd, they don't seem to think I'll play nice," Clara said under her breath.
The last one was the Ethereal sister, the one who looked as though she had one foot in the grave, the one graced with a translucent complexion. This one also had a lantern themed locket, but was a mirror image of Sparky's. This was the goddess of necromancy and of the dead, forever the paranoid killjoy.
"Well. Well!" Clara said. "Someone has been to the hen coop."
How fortunate for her that the Ethereal sister would not have much to say tonight, seeing how her sisters sewed her mouth shut. That in itself was both a blessing and a curse. After all, her over-reaction last time had been the linchpin of Clara's plan.
The look of hate on Ethereal's face was priceless. If looks could kill, Clara would have dropped dead on the spot. Although Clara had to admit, that one time was more than enough.
"Not surprised to see us?" Silver asked.
Clara shrugged before replying, "No. You used the same parlour tricks the last time we met."
The hunter walked slowly, and deliberately towards the kitchen. The sisters had obviously witnessed her getting dressed, so they knew she was unarmed. Still, it was unwise to force a response this early in the game.
"You thought you'd seen the last of us?" Silver asked.
"To be honest, I never planned on returning," Clara said with a smile.
Sparky's glowing eyes followed her every movement but she did not engage. Without Ethereal's poisoned tongue, Silver had effective control over the group. Clara did not care for this new dynamic, since it worked in their favour. That meant she would need to sow some discord.
From the island, Clara got a better view of the kitchen and the chaos unleashed prior to her exiting the bathroom. Right next to the stove, there were bodies, doppelgängers, one for each sister. Clara's eyes quickly scanned the kitchen and saw how the fridge door was dented leaving a mess of blood, milk, and condiments pooled around the base. The stove itself looked as though it were singed, indicating that Sparky had a bit of fun earlier.
The kitchen was covered in blood splatter, and Clara found it surprising how none of that was visible from the living room. Then again, it was also curious that she missed the odour of burnt metal and cooked flesh.
"Friends of yours?" Clara asked.
Silver scoffed, then snapped her fingers, which caused an amphora with four glasses to appear. The goblets had a golden hue and Clara recognised this as being ambrosia, a drink she had a passing familiarity with. She even remembered how just one drop of that giggle water was enough to diminish the most intense orgasm she ever had.
"Not really," Hecate said. "Abominations that were never meant to exist."
"Really?" Clara asked with curiosity.
"We may have ruled this world as gods thousands of years ago, but that doesn't preclude us from understanding the mechanics of space and time," Hecate said before a brief pause. "One of your own once said that any sufficiently advanced technology is indistinguishable from magic."
"I must have missed that particular quote," Clara said, as she grabbed a drink. "Being dead does tend to leave one disconnected from popular culture."
The three sisters emulated Clara but kept their eyes focused on her even while they brought the drink to their lips and took a sip. All except for the frustrated Ethereal, who once realizing there was no way to partake, she smashed her goblet against the floor in protest.
This time, the flavour and associated sensations were subdued, almost mundane. Was this related to her ascension as an angel? Was her new physiology better able to handle ambrosia? That idea left her distinctly disappointed. However, it did give her an idea of where she stood in relation to the sisters. Clara was no longer the helpless human and hoped to play that to her advantage.
Clara finished off the rest of the ambrosia in one shot and replaced the goblet before saying, "Similar to the Georgian's ability to manipulate time, I suppose."
Sparky let out a giggle which led her to accidentally send out a jolt of energy, one that burned a hole in the couch. Clara looked at the damage and smirked just as the goddess of magic covered her mouth in embarrassment.
"Funny that you mention them," Silver said.
"We suspect they caused this whole mess," Sparky added.
"What mess?" Clara asked.
"You haven't noticed anything odd since yesterday?" Silver asked.
"Like a shockwave?" Sparky threw in.
Ethereal sister tried to say something, but her words were muffled. She glared at her sisters then stomped her feet like a child having a fit. Clara bit the inside of her cheek to keep from laughing and despite the pain, she almost lost control.
"Now that you mention it," Clara said. "I did see a shockwave propagating over the Eastern seaboard before I fell. I also saw Edith…"
The goddesses smiled before merging into one body. Unlike their last encounter, she did not cycle from one persona to another. Instead, she adopted her nondescript form, the one that permitted her to move freely amongst humans.
Meanwhile, Clara shifted away from the counter and noted a knife block that held a few knives. Hopefully, Elizabeth was picky about the quality of her blades, and was keen to keep them sharp.
"We are attuned to variations in space and time," Hecate said. "We can discern elements that are not from this reality, failed paths that should have atrophied long ago."
"You're talking about probabilities?" Clara confirmed.
That question had a profound effect on the goddess; she broke apart so Sparky could ask, "How does she know?"
The silvery sister grabbed her sisters' arms in an attempt to draw them back. It was clear that none of this had been scripted and that it could escalate into another situation.
Frustrated, Silver said, "Fools, she obviously met the Gatekeeper."
Clara had never heard of the Gatekeeper, although it did not take much to figure out that Hecate was speaking of Saint Peter, the one who kept a vigil over the gates of Heaven taking on the appearance of whatever form the soul was most comfortable with. Clara had hoped to meet Freya for what she assumed would be an awe inspiring opportunity to meet one of the Norse gods in full armour.
When Hecate succeeded in dragging her selves back into a singular shape, she answered, "Alternate choices create a separate branch of existence. Normally, the paths not chosen will wither away over time while this reality forges on."
"Saint Peter told me that the ability to choose tended to wreak havoc on determining outcomes," Clara said.
Hecate nodded before she said, "We are more attuned to such disturbances because of our inherent ability to manipulate space and time."
"Obviously, and something drew you here," Clara said.
"Of course, the signs are everywhere. People going about their business, unaware that they died years back. Duplicates, like that rubbish, and structures that were torn down are now standing tall again, or fused in with a new construction," Hecate said.
The goddess took the amphora, refilled the intact goblets, and downed the precious ambrosia in a straight set. Clara was impressed, there was no time to come up for air.
"So why would you suspect the Georgians?" Clara asked, even though several reasons ran through her own mind.
"Who else?" Hecate asked. "The combined power output of humanity is insufficient to achieve this level of distortion."
Clara mulled things over: the abandoned boutique where she heard signs of Edith rifling through clothing and finding that abandoned truck. Could these occurrences have been the result of reality being shattered? This meant the effect had not been confined exclusively to the mortal realm.
"So what brought you ladies here?" Clara repeated.
A sickly grin spread from the edge of Hecate's lips, one eerie enough to send a chill down Clara's spine. This one was planning something and that meant it would assuredly be unpleasant. As a precaution, she slowed down time, just enough to heighten her reaction times and, with a bit of luck, the change would remain undetected.
Clara watched as Hecate's lips moved slowly, her voice now lower in pitch and stretched. So far, the goddess was not aware of the change.
"We were curious," Hecate said. "These three caught you on the news fighting that undead whore and became furious that their high priestess exposed herself to the world."
Clara nodded when appropriate her mind wandering as it often did when starving for information. Every movement needed to be planned, and executed with precision. At this speed, even an errant blink could appear unnatural, something vampires often failed to compensate for.
"So, we followed them here and disposed of them while you were in the shower," Hecate said. "Now we have all the time in the world to exact our revenge."
Clara's eyes focused on the goddess's hand. When her fingers moved to form a snap, Clara further accelerated her reaction time so that the motion was nearly arrested.
She grabbed the knife with the largest handle. As the stainless steel chef's knife exited the block, she noticed the fingers moving faster. This meant Hecate figured it out and was trying to compensate. Clara gripped the handle with her dominant hand and used her wings to provide her with a bit of a boost. With every passing second, Hecate's movements accelerated.
It was close but Clara managed to drive the blade though Hecate's fingers until it reached bone. Normally the knife would have stopped there, but given her momentum, the steel deformed as it cut through until it broke apart, leaving a finger and thumb hanging by a thin layer of skin. Clara continued on past the goddess just as the blade exploded into a shower of shrapnel.
Hecate's muscles spasmed from the pain but her eyes continued to track Clara's flight path. The shock and anger left a fiery inferno glowing in those eyes. The pain had been so overwhelming that all three goddesses mirrored the wince as they tore themselves from the whole.
"What a shame that Sparky's eyes are already aglow," Clara thought.
Unable to keep this up for long, Clara returned to normal speed and her timing could not have been worse. It left her with no time to react to the blue beam of magical energy that arced through the air and struck her right in the chest.
Initially, her muscles contracted and relaxed at a ridiculous rate while the magical energy coursed through her veins. She should have been in a lot of pain, so much so, that her mind would shut itself off before going mad. Instead, the surge left her invigorated, all powerful, and feeling distinctly aroused.
This surge of energy forced her wings to expand. As they swept through the room, they struck the side lamp and caused it to shatter against the floor. All the while, her feathers darkened, leaving her to wonder if they would burst into flame. Instead, they turned jet black.
As her body and mind adjusted to this surge of power, she determined that it was not being channelled as much as stored. Clara opened her steel-grey eyes which were themselves aglow. While Clara did not fully comprehend what was going on, she thirsted for more.
The closer she was to Sparky, the more she felt alive, even a bit randy. With her free hand, she grabbed Sparky's arm to feed directly from the source.
The effect was immediate. Sparky's eyes began to dim but Clara did not care. Instead, she leaned in until their lips brushed lightly against one another. The electric charge that flowed over the surface of their skin made Clara yearn for more.
When Clara pressed their lips together, a shockwave knocked down knick knacks, plates, and whatever was not secured within a radius of several feet. Clara moaned and with that, discovered that her partner had also surrendered to the passion.
Their tongues intertwined and danced together in this exchange of passion. The act of gaining strength while the other weakened, made her feel invulnerable. This moment left her overwhelmed and Clara experienced an orgasm for the first time in ninety years.
As Clara sensed that last stray volt leave Sparky's body, she plunged what remained of the knife into her partner's chest and pierced the heart. The metal may have been weakened, but with enough brute force, even a rock could penetrate armour.
Sparky gasped. Her eyes grew wide in shock before they went out. Clara watched as Sparky coughed up golden blood which slowly transformed into a dark red, the same colour as a human's.
Clara turned around and let the corpse fall to the floor without care. The glow from her eyes illuminated the room, bathing the sisters in a ghastly light. The look of horror etched on their faces was plain as day and that only emboldened her.
"I'm the avenging angel," Clara said.
Ethereal tried to reach for a knife but Clara reached out with her wings and pulled this remnant towards her. In a flash, the wings surrounded the translucent creature and before Ethereal reacted, Clara channelled all of that stored energy through her wings straight into her victim.
Clara immediately caught the odour of burning meat, but her training made it a snap to block it out of her mind. With her lips sewn shut, Ethereal was unable to scream, nonetheless, the muffled cries of agony were horrifying. These pleas for mercy were ignored by the executioner, which served only to terrorise what remained of Hecate.
The angel discarded the charred corpse just as easily as the last. By the time the body impacted the floor, all that remained were scorched bones.
"A fitting end for that mustard plaster," Clara said with a wry smile. "Now where were we?"
Once those words soaked in, what was left of Hecate tried to bolt. Clara was ready for that eventuality. She simply swatted the woman with a wing and sent her on a collision course with the kitchen island. Hecate collided face first into the tile top, bounced off, landed on her ass, and slumped onto the floor.
Clara walked over casually to the counter and picked up the amphora. Based on her last encounter, the amphora never emptied. She looked at the glowing liquid with glee and hovered it over Hecate. Without hesitation, she poured the fluid over the goddess' mouth and nose.
It took a few moments, but Hecate's eyes shot open before she tried to sit up. Clara held Hecate down using her knees and kept the arms pinned down with her wings. She continued to pour while the goddess struggled and stopped only once the other was significantly weakened. Hecate gasped for air but that was followed by a coughing fit. Still, she never took her eyes off of that amphora.
"Ready to talk?" Clara pressed.
"You'll pay—," Hecate tried to say.
Clara was not about to show leniency— not for her— and poured even more onto Hecate's face. This one showed no mercy in the past, nor shared Clara's concern for the carnage that Drusilla was capable of. She was an aberration, a crime against nature, and deserved to be culled. Clara was only fulfilling her role as a hunter but first, she needed answers.
"Ready?" Clara asked.
Hecate saw the amphora hovering above. Instead of actively fighting Clara, she opted for a passive aggressive response by nodding.
Clara was not about to stand for that, she poured more ambrosia over the goddess for good measure. This time the goddess was more cooperative, effectively broken, and would do anything to stop further torment.
"Yes!" Hecate pleaded.
"Oh good!" Clara exclaimed in an overly cheerful voice.
"What do you want?" Hecate asked faintly.
"Simple," Clara said. "You mentioned Georgians earlier."
"What about them?" Hecate hissed.
The mere threat of sending down more ambrosia made Hecate cringe. Clara's steel-grey eyes narrowed, serving as a warning that there would be no leniency.
"Where are they?" Clara questioned.
"Here…" Hecate answered.
"As in, this city?" Clara pressed.
"Y-Yes," Hecate stuttered.
Clara smiled. That was the first bit of good news yet. Seeing how someone owed her a favour, this might just be the way to collect.
"Where are they precisely?" Clara asked letting a drop fall onto the goddess' forehead as a reminder.
Tears streamed down Hecate's face, her eyes puffy and red from the emotional turmoil. Clearly these gods were not accustomed to being treated so harshly. Humans had been both tormented and tormentors of others for generations. Clearly they had outgrown their former masters in this regard.
"I—I—" Hecate faulted.
"You don't know?" Clara prodded.
Hecate nodded vigorously, erroneously filled with a sense of relief, one that followed when a captive believed their pain was about to come to an end. However, Clara was not quite done.
"What use are you to me then?" Clara asked and followed through with a sick grin. "Unless you have insight into what happened to the Tower?"
"Th-The T-Tower?" Hecate asked.
"The order also known as the Tower," Clara said. "The one I belonged to before you decided to interfere with my hunt."
The goddess broke down entirely, wailing as though she had suddenly grown a conscience. It was obvious that this creature knew nothing more but Clara was an instrument for God and would not show compassion. Without a second thought, Clara used her free hand to block Hecate's nose and shoved the mouth of the amphora down her throat. At first, the goddess convulsed, tears streamed down those swollen cheeks, and guttural pleas filtered through those overflowing lips.
It must have taken a good five minutes before the liquid poured freely out of Hecate's mouth. Clara did not look at the body, nor at the sight of the bulging stomach. Instead, she closed her eyes and concentrated. The goddess' heartbeat had been steady until now, but it was faltering, and worsened until Clara was met with a deafening silence.
Clara sighed before she used the island counter to help herself up. She ignored the existing corpses while avoiding the worst of the gore in the kitchen to make her way to the sink. When sounds of the waking world returned, she began to vomit into the stainless steel receptacle. Her stomach may have been empty but brought up bile nonetheless.
Clara had been a hunter all of her life and never experienced this type of reaction before. She set vampires aflame, decapitated her foes, shot them in the head, and even condemned a soldier to his fate on the battlefield. In those cases, she never felt a morsel of remorse. And yet?
In the last moments of that creature's life, she seemed so hurt, so… so human. Clara had made an oath to never directly kill or maim humans. Those who were guilty of collaboration were to be condemned by society itself, not members of her order. Somehow that brief glimpse of humanity evoked an overwhelming sense of empathy.
She wiped the bile from her lips and washed away whatever lingered using the sink's spout. Clara needed to overcome this turmoil since she had done the world a great service by killing Hecate. Eventually, these memories would fade, just like the trauma induced by witnessing Father Michael's neck being torn open by a vampire. His death was the reason she became a hunter, and yet, she no longer remembered that they shared the same eye colour.
Clara sighed, turned to face the bathroom, and marched right in. She needed to prepare Elizabeth for what would be witnessed once she walked through that door.
Disclaimer: This chapter is currently in development. There are likely typos, errors, omissions, inconsistencies and so forth. Please do not treat this as a polished and completed work!