There are certain elements of life that few of us think about. Many avoid dwelling on death and few question how we ended up where we are. Was it blind luck? Skill? Ruthlessness? Or was it pre-ordained by a greater power?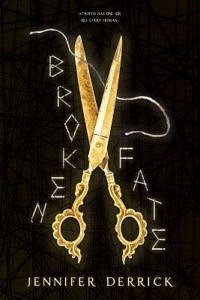 Broken Fate by Jennifer Derrick tackled both elements by living through a moment in the life of one of the Fates. The author Jennifer Derrick seems to have a knack for dragging Greek mythology thousands of years ahead into the now. She breathed life into these ancient gods and goddesses and left me emotionally invested in their outcomes.
All of the elements are there, political intrigue, alliances, life, and death. The latter is central to our main characters existence and the reader gets to see what happens when rules are bent or broken.
I found it hard to put this book down, taking any opportunity I had to advance a few pages. Alas, the much of the story remains to be told. So I ordered Avenging Fate to see how just how this tale unfolds!

Evelyn Reads Through Broken Fate by Evelyn Chartres is licensed under a Creative Commons Attribution-ShareAlike 4.0 International License.