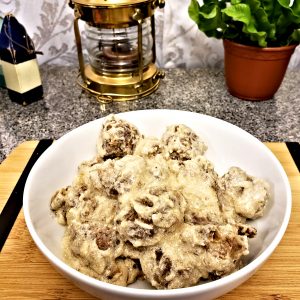 Swedish meatballs are a de-facto comfort food. This recipe opts to bake the meatballs so they remain intact during cooking. These seasoned meatballs, coated in sour cream, can really brighten the mood at the table and are sure to become a family favourite!
This recipe feeds 6 to 8 people.
Ingredients
1⅛ cup (265 ml) of dry bread crumbs
1 cup (235 ml) of heavy cream
2 tablespoons (30 ml) of butter (divided)
½ cup (120 ml) of finely chopped onions
2 cloves (5-10 g) of crushed garlic
1 pound (450 g) of ground beef
½ pound (225 g) of ground pork
1 tablespoon (15 ml) of Herbes de Provence or Italian Seasoning (divided)
¼ teaspoon (1.25 ml) of ground allspice
Salt and Pepper to taste
1 cup (235 ml) of beef broth
1 cup (235 ml) of sour cream
2 tablespoons (30 ml) of flour
Preparation
Pre-heat oven to 325°F (165°C).
In a small skillet, melt 1 tablespoon (15 ml) of butter. Add onions and garlic then sauté until onions are transparent.
In a large bowl, mix bread crumbs and cream. Then quickly add onions, garlic, beef, pork, 2 teaspoons (10 ml) of herbes, salt and pepper. Kneed the contents until you have a consistent texture.
Using a heaping tablespoon of meat, roll into meatballs. Place meatballs on a greased 17×11 inch (44×28 cm) pan or cookie sheet. Space them out to fit approximately 40 meatballs.
Place in the oven and bake for 25 to 30 minutes or until the centre is no longer pink. Occasionally, roll the balls to prevent them from cooking on only one side or sticking to the pan. Once cooked, set aside.
In a large saucepan on medium-high bring broth to a boil. Reduce to low once it comes to a boil.
Combine sour cream and flour into a small bowl then mix well. Stir mixture into the broth, then cook for five minutes while stirring constantly. Do not bring to a boil.
Add meatballs and cook for five minutes. Occasionally, place a lid on the saucepan then shake the contents so every meatball gets evenly coated.
When complete, garnish with remaining herbes and serve.

Swedish Meatballs by Evelyn Chartres is licensed under a Creative Commons Attribution-ShareAlike 4.0 International License.