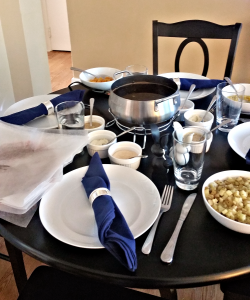 A Fondue Chinoise is a
French Canadian
meal which features a
communal pot
filled with beef broth. Guests will place thinly sliced beef that is wrapped around a
fondue fork
.
Once cooked the meat is placed on the plate then dipped in various sauces covered below.  This allows guests to savour the meat while another slice is being cooked.
Ingredients
Fondue Chinoise
1 quart (950 ml) of reduced sodium beef broth
1 package (40 g) of French Onion soup mix
½ pound (225 g) of thin (1/16" or 1.5 mm) sliced eye-round cut of beef (per person)
Sauce au Cognac
½ cup (120 ml) of mayonnaise
1 tablespoon (15 ml) of Cognac
1 teaspoon (5 ml) of ketchup
1 clove (5 – 10 g) of garlic
Sauce a L'Ail
½ cup (120 ml) of mayonnaise
5 cloves (15 to 20 g) of garlic
⅛ teaspoon (0.75 ml) of Italian seasoning
Sauce Dijon au Miel
½ cup (120 ml) of mayonnaise
2 tablespoons (30 ml) of Dijon mustard
2 tablespoons (30 ml) of honey
2 teaspoons (10 ml) of Worcestershire sauce or Balsamic vinegar
Preparation
Fondue Chinoise
Pour beef broth into fondue pot then mix in package of French Onion soup.
Heat until broth comes to a boil then lower heat to maintain a slow boil.
Cover a sheet of wax paper with sliced meat (make sure they do not touch).  Cover with a fresh sheet of wax paper continue covering with meat until stock depleted. This will make picking up individual slices easier.
Using a fondue fork, pierce a slice of beef then wrap around the fork.  To avoid losing the slice, pierce the overlapping end back over the fork then submerge in the broth until cooked.
Sauce au Cognac
Mix mayonnaise and ketchup together until sauce takes on a pinkish hue.
Press one clove of garlic then stir into the sauce.
Pour in Cognac and stir until you have a consistent finish.  Ready to serve.
Sauce a L'Ail
In a pan sauté pressed garlic.
Mix garlic, mayonnaise and Italian seasoning together.  Ready to serve.
Sauce Dijon au Miel
Mix mayonnaise, Dijon mustard and honey in a bowl.
Pour in Worcestershire or Balsamic vinegar for taste, then stir contents.  Ready to serve.

Fondue Chinoise by Evelyn Chartres is licensed under a Creative Commons Attribution-ShareAlike 4.0 International License.