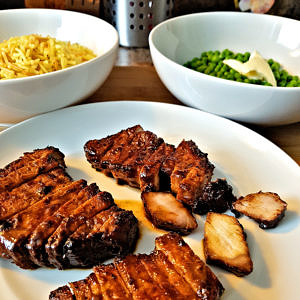 A tasty way to marinate pork tenderloin using ginger, peanut butter, soy sauce and various spices. This dish is typically cut into tender bite-sized pieces.
This recipe can be prepared ahead of time and frozen. I use this when going camping for the week, since it can be used like cold packs as it thaws and allows me to get supper done on the first day without much effort.
Ingredients
3 tablespoons (45 ml) of soy sauce
1 tablespoon (15 ml) of sesame oil
1 tablespoon (15 ml) of honey
1 tablespoon (15 ml) of peanut butter
2 teaspoons (10 ml) of hot sauce
1 teaspoon (5 ml) of curry powder
½ teaspoon (2.5 ml) of salt
¼ teaspoon (1.25 ml) of ground ginger
1 clove (5-10 g) of garlic
1 pound (450 g) of pork tenderloin
Instructions
In a freezer bag, add all ingredients and mix thoroughly.
Use a straw to remove any excess air and seal the bag.
Place in the fridge for at least two (2) hours or preferably overnight. Mix contents occasionally.
Grill pork tenderloin until meat is cooked throughout. Occasionally baste with marinade to enhance flavour.
Cut up tenderloin into bite-sized pieces. Ready to serve.

Ginger, Peanut, and Pork Tenderloin by Evelyn Chartres is licensed under a Creative Commons Attribution-ShareAlike 4.0 International License.