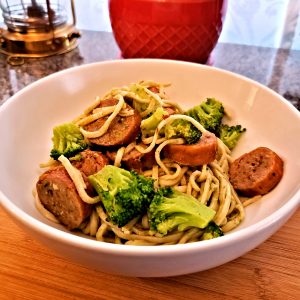 Italian sausage, broccoli, mixed with a homemade pesto. This recipe can be further enhanced by making your own pasta to go along with it. This is a dish that keeps well, tastes great, and is ready-to-serve!
Ingredients
12 ounces (360 ml) of linguine
1 pound (450 g) of linked Italian sausage
½ cup (120 ml) of packed basil leaves or ¼ cup (60 ml) of dry basil
¼ cup (60 ml) of walnut pieces
2 cloves (5-10 g) of pressed garlic
¼ cup (60 ml) of grated Parmesan
⅓ cup (80 ml) of olive oil
2 cups (480 ml) of cooked broccoli florets
Preparation
Cook pasta according to package directions, rinse, drain, and set aside.
Grill sausage, preferably on an outdoor grill, until cooked. When done, slice into ¼ inch (0.6 cm) pieces, and set aside.
Toast the walnut pieces in the oven until they brown.
Combine basil, walnuts, garlic, Parmesan, and olive oil in a food processor. Blend for a consistent finish.
Combine pasta, sausage, broccoli and pesto into a large bowl. Ready to serve.

Italian Sausage, Broccoli and Pesto by Evelyn Chartres is licensed under a Creative Commons Attribution-ShareAlike 4.0 International License.