The earliest instances of writing were done by hand and any copies were made by scribes so every book was unique. Many such manuscripts included doodles or annotations that either hinted at the scribe's creativity or provided insights on their inherent boredom.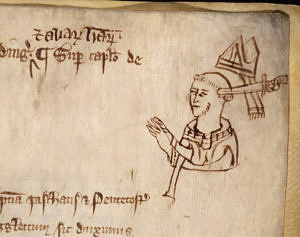 The printing press increased our opportunity to get published works to the masses. The advent of eBooks further accelerated this phenomenon.
Authors are as varied as the stories they tell. Some still write by hand, channeling the spirit of monks and scribes of old. Others prefer the feel of a typewriter, an aspect often portrayed in movies and novels.
Technology has allowed writers to venture into the digital age. While some authors like George R.R. Martin remains stubbornly entrenched on the technology they adopt, others embrace tools to lend aid. Now it's common to see people in coffee shops writing away on their laptops, feeding from the raw energy that permeate such places.
Advances in technology are not exclusively confined to software, computers have gotten smaller and more compact. Many of us own phones that have more processing power than was available for NASA during the Apollo program. However, this technology has not been wildly adopted as a convenient way to create content. I mean for more than keeping notes and jotting down ideas, but for writing a whole manuscript from start to finish.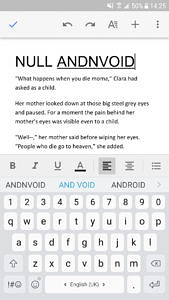 A week ago, I completed my first review of a manuscript, written entirely on my smart phone. To note, I did not use a Bluetooth to make typing easier, and used software readily available on most Android phones.
So Why Did I Do It?
Tools are at my fingertips. Auto-correct features are available on every device, a capability which is invaluable. We can fire up a browser to confirm details, after all Wikipedia is just a bookmark away. Revision history on Google Docs allows is great for collecting statistics on updates and changes over time.
Backup and share live. Basic tools like Google Docs can back-up and share work live. Unless disconnected from the Internet, the manuscript will be available on any device. How often did you have a stroke of genius, but forgot most of it before you got home?
I can take it wherever I go. While the same can be said about pen and paper, many carry their phones where they go. Given a spare moment, pull out your phone and continue adding to a chapter. This is an aspect that I found to be indispensable, especially as a parent who works full-time. After all, finding a moment to sit in front of your laptop can be a daunting task.
My manuscript was 65,643 words over 165 pages when I finished the review which generated 8,384 corrections. Tools inherent to Google Docs allowed me to generate statistics. In turn, this information enables you to gauge your revision cycles and later focus your goals.
So What Did I Learn?
Auto-correct is invaluable. Typing on a virtual keyboard will generate errors. Perhaps your thumb struck a letter instead of the space bar, or the auto-correct interpreted a word differently than anticipated. However, disabling the auto-correct it is not an option, since you'd end up with large swathsnofnmyspelednwords (swaths of misspelled words) that make no sense.
Not portable by default. If you forgot to set your document to be available offline, then you will not be able to update existing chapters until you have an opportunity to connect to the Internet.
Working Offline. A lot of auto-correct features built into Google Docs are unavailable when offline; phones will then revert to their built-in system. Checking on your progress after you reconnect, will show a slew words that were misinterpreted.
Reviewing your manuscript is critical. This process is critical for any manuscript to confirm your work. During this cycle, I came across words that made no sense and needed to decipher their meaning. While this happens with content creation method, errors are compounded by speed and relying on auto-correct.
Overall I found the advantages of using my mobile device to outweighed the disadvantages. While my writing is not as fast on a virtual keyboard, it's close enough to push through. Additionally, I can use my time while on a bus, while waiting for my child to finish her extra-curricular activities.
Even at locations that do not have reliable Internet, my smartphone provides me with a quick and easy way to continue with my work. While laptops have their own charms, the battery life and size make them impractical for day-to-day usage.
Perhaps a better technology will come along within the next couple of years. I'll be sure to re-evaluate and might even take the plunge. Who know? For now, I found a tool that works for me!

Mobile Manuscripts by Evelyn Chartres is licensed under a Creative Commons Attribution-ShareAlike 4.0 International License.