I was playing around with my camera, intent on creating a featured image for another post. However, when I looked at the finished product it got me thinking.  I know!  Rather dangerous for an author!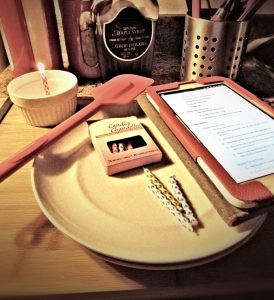 During a flash of creative inspiration, the world I see is both pristine and clear. I could spend weeks writing that scene in all of its exquisite detail. How is that a problem? Like a lightning strike at night, details vanish as soon as they appear.
When looking at the shot, it sets the scene for someone collecting items and ingredients needed to bake a cake. In the picture there are ingredients, a tablet displaying the recipe, candles for later and even some serving plates.
However, once the flash is gone the minds rendition is no longer vibrant. In this case, the richness of reds have bled out from the shot.  There is also a lack of detail and the image is cropped in such a way to prevent viewers from getting a sense of the bigger picture.
Like any story there are also inconsistencies or plot holes. How could someone make a cake without eggs, butter or vanilla extract?  Why is a candle lit even though the cake is not ready?
Only after extensive reviews, reader input and hard work will author's rendition approximate the original flash of inspiration. The reds will be more vibrant, the scene will sport a delicious cake that will make readers drool.
To think you can just taste that thick icing and marble cake… Wait? It was Maple Syrup cake originally!
Oh well minor detail.  Hope no one will notice!

On an Authors Vision and the End Result by Evelyn Chartres is licensed under a Creative Commons Attribution-ShareAlike 4.0 International License.