Garlic Shepherds Pie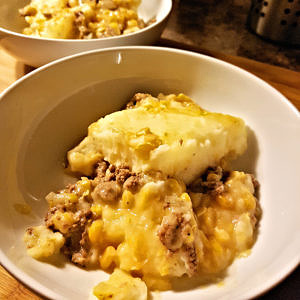 Pâté chinois
is a
French Canadian
dish similar to
Shepherd's Pie
. It is made from layered ground beef, canned cream corn, and mashed potatoes on top.  This recipe is a variation that infuses the dish with garlic, you can vary the amount of garlic in the dish if you prefer a more subtle effect.
Pâté chinois is not Chinese cuisine. One theory is that dish was introduced to railway workers by Chinese cooks while building the railroad.
Ingredients
Ground Beef Layer
1 pound (450g) of lean ground beef
1 tablespoon (15g) of butter
1 small onion (50g) chopped
3 to 6 cloves of garlic (5 – 10g) pressed
½ teaspoon of Italian seasoning
½ teaspoon of pepper
¼ teaspoon of salt
Corn Layer
19 fl oz (540 ml) of cream-style corn
Potato Mash
1 pound (450g) of potatoes
1-2 tablespoons (15 – 30g) of garlic butter
¼ cup (60ml) of milk
Preparation
Pre-heat oven to 325°F (165°C).
Melt butter in a pan then place ground beef, onion, garlic, Italian seasoning, salt and pepper. Cook on medium-high until the meat is golden brown.  Drain meat then layer on the bottom of a baking dish, pack it down lightly until layer is uniform.
Pour cream corn into baking dish, cover ground beef layer uniformly.  Be sure to leave a few tablespoons of cream corn for later.
Peel and chop potatoes, then boil until they  break apart by pressing against the side of the pot.
Drain water then add garlic butter and milk.  Mash until you have a smooth mixture.  Spoon mashed potatoes into the baking dish, adding the third and final layer to the dish.
Use remaining cream corn to cover the mashed potatoes.  This will prevent the potatoes from drying up in the oven.
Place in the oven for 25 to 30 minutes to heat up concerts.  Comes out ready to serve.

Pâté Chinois a l'Aile by Evelyn Chartres is licensed under a Creative Commons Attribution-ShareAlike 4.0 International License.