I found The Taste of Her Blood: A Lesbian Vampire Tale by K.C. Bloom to be precious little find. It reminded me of a classic fairy tale complete with foreboding forests, a hunter, brigands, and some sort of creature.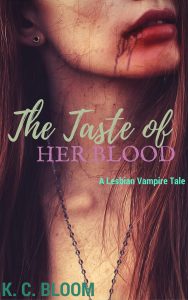 The similarities end there because the author turns this story on its head! I found the main characters to be believable and fleshed out. Their intimate interactions flow beautifully into the prose such that these scenes compliment the story.
I love the details that were specific to vampirism including the curse inflicted upon those who thirst for blood. I've never encountered that twist before and it provided a unique way to drive the story forward.
While a quick read, you'll find yourself yearning for more. Fortunately, K.C. Bloom has written another story in the same vein!
Perhaps she'd like to borrow my Evelyn for some inspiration?